2020 Local Government Elections
2020 Local Government Elections
2020 Local Government Election Results
The local government quadriennal elections were held on Saturday 28 March 2020.
In accordance with section 100 of the Local Government Electoral Act 2011, this notice advises that the following persons have been duly elected to Scenic Rim Regional Council:
Mayor Gregory Robin Christensen
Divsion 1 Councillor Robert Derek Swanborough
Division 2 Councillor Jeffrey John Samuel McConnell
Division 3 Councillor Virginia Anne West
Division 4 Councillor Michael John Enright
Division 5 Councillor Marshall John Chalk
Division 6 Councillor Duncan McInnes

Copies of the Electoral Commission of Queensland Notice of Election Results are below.
Scenic Rim's divisional boundaries re-drawn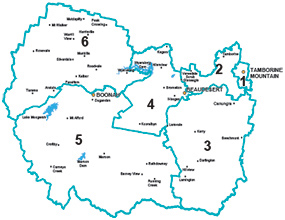 Scenic Rim Regional Council's divisional boundaries were re-drawn following a review by the Local Government Change Commission ahead of Queensland's 2020 Local Government Elections.
More information about the change in boundaries can be found here.