Scenic Rim Waste Transfer Stations
Please note: All Scenic Rim Waste Transfer Stations will be closed for ANZAC Day (Saturday 25 April). Otherwise, operating hours remain as normal. You can see the full list of opening hours below.
COVID-19 update
Waste services remain open
Council Waste Facilities are open within normal operating days/times. Social distancing measures will be managed by Council staff on site.
How can I avoid or reduce visits to the Waste Transfer Stations during COVID?
Consider what waste you are generating and perhaps delay projects that may generate large volumes of waste. For example do those trees need to be pruned at this point in time?
Support a local business by ordering a waste collection or skip bin service from a commercial service provider.
Consider visiting the waste transfer station during weekdays.
Reuse, recycle or re-purpose waste materials.

Is now the time to learn how to home compost food scraps and garden organics?
Set-up a separate recycling station in your home to better separate items that go in the yellow-lid bin – only paper, cardboard, aluminium, hard plastic and metal.

Postpone your visit to a transfer station until you have a full load of waste.
Make full use of your household waste and recycling bins as Council's kerbside bin collection services are still running.
EFTPOS available at Beaudesert, Canungra, Tamborine Mountain and Boonah Waste Facilities to reduce cash handling during COVID.
Visit the COVID-19 webpage on the Scenic Rim Regional Council website for information on Council's ongoing response to COVID-19.
Scenic Rim Regional Council operates a network of seven waste transfer stations. These stations are distributed across the region in populated areas to provide maximum convenience for local residents.
All sites are closed on Christmas Day, Good Friday and ANZAC day.
SITE

HOURS

BEAUDESERT

43 Waste Facility Rd, Bromelton

Open 9am-5pm seven days a week
*Last entry 4:50pm

CANUNGRA

2036 Beaudesert-Nerang Rd

9am-5pm six days a week
*Last entry 4:50pm
CLOSED Thursday

TAMBORINE MOUNTAIN

137 Knoll Rd

9am-5pm six days a week
*Last entry 4:50pm
CLOSED Wednesday

BOONAH

24 Evans Rd, Dugandan

9am-5pm six days a week
*Last entry 4:50pm
CLOSED Wednesday

RATHDOWNEY

10290 Mt Lindesay Hwy

Open 9am-5pm Monday, Thursday & Saturday
*Last entry 4:50pm
CLOSED Tuesday, Wednesday & Friday

PEAK CROSSING

62 Faulkners Quarry Rd, Harrisville

Open 9am-12pm Wednesday, 1pm-5pm Saturday & Sunday
*Last entry 10 minutes before closing time
CLOSED Monday, Tuesday, Thursday & Friday

KALBAR

14 Muller Rd, Fassifern

Open 1pm-5pm Wednesday, 9am-12pm Saturday & Sunday
*Last entry 10 minutes before closing time
CLOSED Monday, Tuesday, Thursday & Friday
* Please note last customer entry for waste disposal is 10 minutes before closing time. Council provides waste bins at the Rathdowney and Canungra transfer stations from 7am-9am on Mondays to allow the disposal of domestic household waste only.
Waste services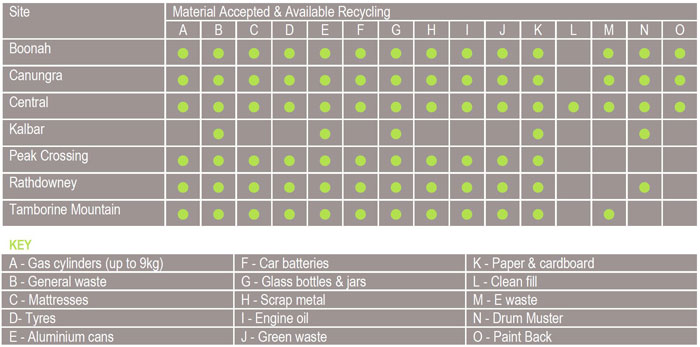 PLEASE NOTE: Tree stumps and tree trunks <40cm will be charged at general waste fee and can only be delivered to Central Landfill at Bromelton.
Waste Charges 2020-21 Household
Waste Charges 2020-21 Commercial Industrial
Paint Disposal through Paintback
Paint is now able to be disposed, free of charge, at Boonah, Canungra and Central (Beaudesert) Transfer Stations, through the Paintback program. Paintback enables households and trade painters to responsibly dispose of unwanted paint and packaging. Paintback separates the packaging and waste liquid for treatment. The containers are recycled. Waste paint is treated in a number of ways, including energy recovery for solvent, and liquid/solid separation for water-based paint, significantly minimising disposal to landfill. Paintback accepts the following products:
Interior and exterior architectural paint
Deck coatings and floor paints
Primers
Undercoats and sealers
Stains and shellacs
Varnishes and urethanes (single component)
Wood coatings and packaging.
Paintback accepts up to 100 litres per visit, stowed in containers of 20lt or less. Paint Back cannot take industrial and specialist coatings and other tints and surface treatments. Please refer to the Paint Back website for further acceptance criteria details.
E-waste recycling
E-waste recycling is available at the Tamborine Mountain, Canungra, Boonah and Beaudesert transfer stations. This service is free to residents and includes many electronic household items that can be taken to these sites for recycling.
Recyclable items include: Television, Printer, Scanner, Photocopier, Flat Screen Monitors, Laptop, Docking Station, Keyboard, Computer Mouse, Palm Pilot /Hand Held Devices, External Modem, Peripherals, PABX Systems, Data Projector, Switch/Hub Devices, Server, Main Frame, Router, Tape Drives, Server Racking, Cables, Telephones, Mobile Phone, Sandwich Maker, Electric Heater, Microwave, Kettle, Camera, VCR Player, DVD Player, Hi-Fi System, Speakers, Video Recorder, iPod /MP3 Player, Toaster, Vacuum Cleaner, lron, Typewriter.
Chemical drum disposal
Eligible drums can be taken to designated DrumMuster collection points. When you arrive please advise the Waste Service Officer on site that you have drums to be disposed of by DrumMuster.
Eligible containers are non-returnable metal and plastic containers marked with the DrumMuster eligible container logo. This logo may be applied to the container either as a sticker, printed as part of the label or embossed into the container material.
All containers must be triple rinsed and have the lids removed before delivering to the transfer station. Failure to do this may result in your containers not being accepted. Commercial disposal charges apply to returns in excess of 250 kilograms. Drums should be wrapped in manageable sizes as they will need to be unloaded by hand and placed in the designated DrumMuster area.
DrumMuster can only reimburse Council for the collection of 'levy paid' containers carrying the DrumMaster eligible container logo. Some manufacturers have not joined the program and subsequently their containers are not part of DrumMuster.
Variation to the scope of the program since its inception allows acceptance of previously non-eligible containers such as surfactants, dairy chemicals and liquid fertilisers from participating manufacturers. The program will not accept petroleum or liquid chlorine containers that are used for non agricultural purposes. All eligible containers should carry the DrumMuster logo.
For more information go to www.drummuster.com.au
Disposal of asbestos, dead animals and other regulated waste
Dead animals, limited regulated wastes and small quantities of asbestos are accepted at the Central Landfill located at Bromelton. Asbestos must be wet down and double wrapped in plastic before transporting to the waste facility. Where possible, 24 hours notice should be provided to the Waste Department before arriving at the waste facility and delivery should be prior to 3pm to ensure contractor availability.
Disposal of commercial quantities of asbestos and other regulated waste must be accompanied by a Department Environment and Science Waste Transport Certificate.
NOTE: Special handling and burial fees apply.
Fire Ants
Fire ants are one of the world's most invasive species. Under the Biosecurity Act 2014, everyone, including individuals and organisations, has a general biosecurity obligation to take all reasonable steps to ensure they do not spread fire ants.
Acceptance of soil and fire ant carriers are monitored at Council's transfer stations and landfill. Council has an obligation to prevent the movement of restricted items from residents of the region, and surrounding areas, into Council's transfer stations and landfill. Restricted items being brought from restricted zones must be declined at Council's transfer stations and landfill.
Restricted Items include:
Soil (fill, clay, scrapings, topsoil, potting media and any other material from the ground), mulch, manure, bark, hay, pot plants, potting media, turf, gravels and poultry litter, and green waste that has been stockpiled before disposal.
Scenic Rim Suburbs in a Restricted Zone include:
Allenview, Coleyville, Harrisville, Peak Crossing, Kagaru, Kents Lagoon, Limestone Ridges, Lower Mount Walker, Merryvale, Milbong, Milora, Mount Forbes, Mount Walker, Mount Walker West, Mutdapilly, Radford, Rosevale, Silverdale, Tamborine, Undullah, Warrill View, Washpool and Wilson Plains.
For further information regarding fire ants, visit www.daf.qld.gov.au/fireants