HAVE A FINAL SAY ON THE DRAFT SCENIC RIM PLANNING SCHEME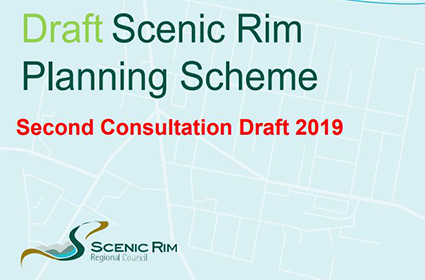 Scenic Rim residents and business operators will have an opportunity for a final say on the region's first integrated planning scheme when the final round of community consultation begins on Wednesday 28 August.
At its Ordinary Meeting this week, Council endorsed the Draft Scenic Rim Planning Scheme and Planning Scheme Policies Public Consultation Report, which were developed following consideration of 559 submissions received between September and December 2018, and endorsed a second round of public consultation, limited to changes made to the 2018 draft, to run for 24 business days from 28 August 2019.
Mayor Greg Christensen said the new Planning Scheme represented an important milestone in the region's 11-year journey following the establishment of Scenic Rim Regional Council in 2008.
"The new planning scheme will replace the existing planning schemes of the former Beaudesert Shire, Boonah Shire and Ipswich City Council areas within the Scenic Rim local government area," he said.
"Guided by the Scenic Rim Community Plan, it will underpin development aligned with the community's shared vision for our region for the next 20 years.
"It aims to provide certainty to Scenic Rim residents, landowners and investors by identifying land use intent for particular areas and informs Council's plans for infrastructure to support growth and balance the social and economic development of the region to protect and enhance our region's lifestyle and the natural assets valued by the community."
The new planning scheme has been developed in the context of the State Government's Planning Act 2016 as well as the Shaping SEQ South East Queensland Regional Plan 2017 and the State Planning Policy.
Cr Christensen urged the community to provide feedback on changes made to the Draft Scenic Rim Planning Scheme following the community consultation late last year.
"Council is grateful for input from the community through the 559 submissions which helped to frame the amendments to the Draft Scenic Rim Planning Scheme," he said.
"This final round of community consultation, which will run until Monday 30 September, is a valuable opportunity to help shape the future of our region and I encourage everyone to have their say."