Have Your Say on Council's Growth Management Strategy
How to provide feedback
Community consultation on the growth management strategy is currently closed.
Follow Council on Facebook and LinkedIn for updates.
Why do we need a growth management strategy?
The Scenic Rim has experienced steady population growth over the last decade and was home to 41,000 residents in 2016 and increased to 43,123 in 2019.
As outlined in ShapingSEQ South East Queensland Regional Plan 2017, the region's population is expected to reach 62,000 by 2041. The regional plan identifies a need for 10,000 additional dwellings and 7,609 new jobs by 2041 to support projected growth for the Scenic Rim.
It is important that this growth is thoughtfully planned and delivered in an efficient and holistic manner. To achieve this Council is preparing the Scenic Rim Growth Management Strategy.
What will the growth management strategy do?
The Scenic Rim Growth Management Strategy will provide a planning framework to guide and manage the growth of the Scenic Rim region to 2041. The overall aim of the growth management strategy is to identify the scale, location, and timing of future residential and employment growth within the region based on community feedback and needs. This will look at extensive analysis of growth assumptions, emerging trends, constraints, and opportunities.
Council's role is to provide the growing community with the right amount of appropriately zoned land that offers a choice of dwelling types and job opportunities that meet a variety of household and community needs.
The growth management strategy will support the delivery of a diverse range of housing types and sizes to help address affordability and changing demographics in accordance with the requirements of the Queensland Government's State Planning Policy 2017. This includes an aging population, growth in single-person households and the increase in couples and single parents with older children.
The outcomes of the Scenic Rim Growth Management Strategy will:
Update Council's growth management policy position and include an implementation plan that recommends updates to existing strategies and policies such as the Scenic Rim Planning Scheme.
Inform the review of the ShapingSEQ regional plan around dwelling supply benchmarks, employment targets, and areas identified for future residential growth.
The findings and recommendations of the growth management strategy:
WILL inform future planning scheme amendments and infrastructure plans.
WON'T re-zone land, provide site-specific development proposals or change development assessment triggers.
What is the next step for the growth management strategy?
The project is currently in Phase 2 - drafting of the growth management strategy.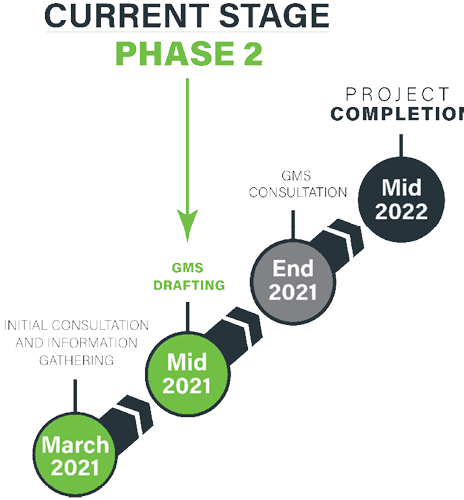 Further information
For more information on the Scenic Rim Growth Management Strategy please contact the Strategic Planning Team on (07) 5540 5111 or mail@scenicrim.qld.gov.au