World of Work
Scenic Rim Business and Careers Expo
On Thursday 18 March 2021, the World of Work will connect Scenic Rim businesses with local community members and job seekers.
Attending as a community member?
If you're seeking local employment or career advice, attending the Scenic Rim's Business and Careers Expo is a must.
You'll get access to local employers, employment opportunities and some of the support services in the Scenic Rim.
There will also be opportunities to find out more about career and training pathways, as well as apprenticeship and traineeship information.
This event is free of charge. There is no need to register, however you will need to record your details on the day as part of our COVID-SAFE Plan for this event.
If you're looking for local jobs, don't forget to visit Scenic Rim Jobs.
JOB SEEKER/COMMUNITY MEMBER REGISTRATION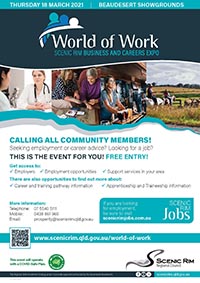 Current exhibitors
The following organisations will have a Careers Zone exhibition at the World of Work. Keep an eye on this page for updates.
| | |
| --- | --- |
| Belong | Cedar Creek Lodges |
| Scenic Rim Regional Council | McDonald's Group |
| MAS National | DGT Employment & Training |
| Australian Lawn Concepts | Smart Employment Solutions |
| Beaucre | Work Health & Safety |
| Busy at Work | Australian Defence Force Recruitment |
| RV Tanks | Beaudesert Auto Group |
| United Equipment/One Stop Training | Australian Brick and Block Layers Foundation |
| Arthy Transport Services | Oz Paragliding |
| Kooralbyn Valley Chamber of Commerce | Department of Employment, Small Business and Training |
Attending as a Scenic Rim business?
If you're attending as a Scenic Rim business, you will be able to:
promote your business through interactive displays
meet prospective employees
advertise current job vacancies, and
network with other Scenic Rim businesses.
Businesses can participate in three ways!
Attend the free business breakfast
Showcase your business as an exhibitor in the Careers Zone, and/or
Advertise your current vacancies on the Jobs Board.
Business breakfast | Reinventing your business with Robert Gerrish
Would you like to re-invent your business by learning practical tips and strategies to create growth?
Then join us at the Scenic Rim Business Breakfast on Thursday 18 March to hear from Robert Gerrish, author of The 1-Minute Commute and business best seller Flying Solo: How to go it alone in business.
Robert will talk about:
why customers drift away (and what to do about it)
the opportunities that surround you and how to benefit
how to be heard in a market that is full of noise, and
those little steps can get you a long, long way
This free event is open to members of the Scenic Rim business community.
Following the breakfast, the World of Work Expo opens at 10.00am at the Beaudesert Showgrounds and runs until 2.30pm.
RSVP by Monday 8 March 2021. (Registration is mandatory as places are limited due to COVID-19 restrictions)
REGISTER FOR THE BREAKFAST NOW
About Robert:
Following a career in the marketing and design industry in London and Sydney, Robert made the leap to his own business in the mid-1990s. Seeing a niche in the area of support and resources aimed at the 'one-person business', Robert launched the Flying Solo community in 2005.
With a small team, he grew the business to a member base of more than 120,000 Australian freelancers and entrepreneurs, before selling at the end of 2017. Back working solo, today Robert pops up regularly at conferences and events; supports individuals in the development of their ventures, and has hosted a series of podcasts including: 'The Business of Bookkeeping', 'The Flying Solo Podcast' and his own 'Rekindle' a show that explores how to keep the flame alive in your work.
His first book, 'Flying Solo: How to go it alone in business' was a business bestseller and his latest, 'The 1-Minute Commute' was published by Pan Macmillan in late 2018 and is available in-store, online and as an audiobook from Audible.com.
Careers zone exhibitors
We are currently inviting Expressions of Interest from all local businesses to participate in the Scenic Rim's World of Work Business and Careers Expo.
This interactive event will allow you to connect with the potential employees and raise your profile within the community. The day will kick off with a free business breakfast, followed by the main World of Work Expo at the Beaudesert Showgrounds.
Advertise on Jobs Board
Local Scenic Rim employers can advertise current vacancies at the World of Work Jobs Board free of charge. Participating employers will be supplied with a Jobs Board template to complete with information about their current vacancies and these will be displayed for the whole event.
A facilitator will be in attendance at the Jobs Board for the entire event.
BUSINESS/EXHIBITOR REGISTRATION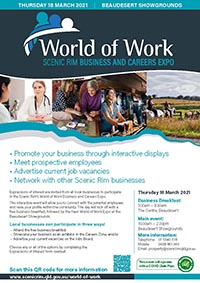 More information:
Telephone: 07 5540 5111
Mobile: 0438 861 960
Email: mitch.r@scenicrim.qld.gov.au
This Regional Skills Investment Strategy project is proudly supported and funded by the Queensland Government.