Beaudesert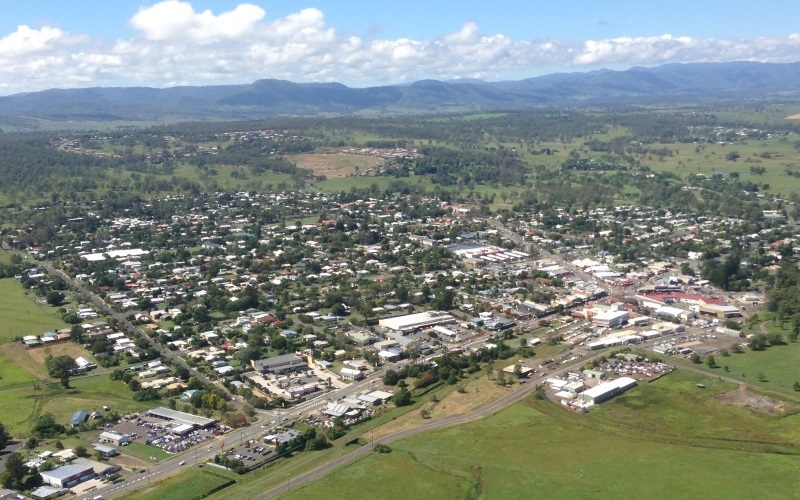 A comfortable drive south-west of Brisbane, Beaudesert is home to more than 6,400 people.
Known for its showgrounds, Beaudesert is the gateway to the Scenic Rim's spectacular scenery and offers a host of activities.
Population growth has been modest in recent years, with the most significant developments being the establishment of two new residential areas - Brayford Estate, two kilometres east of the town, and Tullamore Downs four kilometres north.
The Beaudesert Historical Museum and Information Centre is open daily in Jubilee Park, near Council's library and swimming pool. The museum displays vehicles, machinery and tools dating back more than 100 years. It also houses Pioneer Cottage, an authentic slab hut built in 1875.
The Beaudesert Community Arts and Information Centre, north of the town, is open daily and sells local arts, pottery and crafts. It's also a great spot to enjoy a Devonshire tea.
The Centre, Council's own arts and cultural hub, continues to draw in locals and visitors alike with art exhibitions and performances by acclaimed bands, singers and dance groups as well as screenings of recent release films.
Beaudesert has two primary schools, two high schools and a range of aged care facilities.
Locals can enjoy the olympic-size swimming pool, public library and a range of sports and interests including rugby league, rugby union, soccer, cricket, lawn bowls, touch football, golf, netball, tennis, pony club, turf club, basketball, swimming, fishing, gymnastics, motorcycling, pistol and rifle shooting, auto restoration, cycling, tae-kwon-do and karate.
The town's broad range of goods and services includes hardware stores, banks, TAB, post office, auto shop, chiropractor, computer store, veterinary clinics, trophy shop, electrical and furniture store, optometrists, chemists, medical centre and general practitioners, dentist, butchers, hairdressers, barbers, video shops, fruit and vegetable markets, clothes stores, photo shops, hotels, motels, newsagents, takeaway food outlets, cafes, bakeries, credit union, laundromat, accountants, solicitors, restaurant, motels, shopping centre and real estate agents.
Beaudesert has several service stations and garages with an industrial estate to the north.
A bus company provides a daily service to Brisbane from Monday to Friday.
The origin of Beaudesert's name and its meaning
There are many different versions of the origins and the meaning of Beaudesert. These range from "Beau Desert" meaning beautiful desert to "Beau Desert" being the ancestral home of Henry Bayley in Staffordshire, England.
Beau Desert was named by Edward Hawkins after a station at Mudgee, which was owned by Henry Bayley, whose forebears were linked with the family of Paget.
The origins of Beaudesert's name have been the subject of debate for many years.
Taken from the "Jottings about Beau Desert & The Robinson Connection with its Early History" by Miss G. Campbell, Hon Sec Queensland Womens Historical Association from an article by Miss Lydia Robinson, was the view that "the first Beau Desert, from which the Australian place names derived, was a monastery established by Cistercian monks in Staffordshire, England in the reign of King Stephen. In later years it came into the possession of the Bishops of Liechfield and Coventry, who lived there for 400 years. King Henry VIII on the dissolution of the monasteries granted it to Sir Walter Paget afterwards created Baron Paget of Beau Desert". This view appeared to be doubted by a resident of Beaudesert, P.R. Westerman who took it upon himself to write to the Staffordshire County Council and obtain precise information regarding the true heritage.
In reply, P.R. Westerman was informed that Beaudesert was a Norman Overlord word spoken in Norman French merely meaning a "beautiful and lonely place". It was also disproved that Beaudesert was not a monastery but "was a hunting lodge of the Bishops of Liechfield whose diocesan centre was not more than five miles away. It was situated in their extensive private hunting grounds known as Connock Chase."
Regardless of the interpretation of the origins of the word Beaudesert, it still remains a beautiful and prosperous country area in which to live.