Harrisville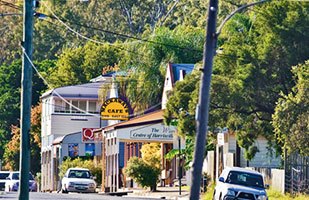 Harrisville was established in the early 1860s, when the Queensland Government began to encourage settlement in country areas.
As one of these initiatives, Ipswich Agricultural Reserve was established around Warrill and Warroolaba Creeks. In this reserve, land was surveyed into small blocks and made available for settlers.
The land was fertile and by 1864, there were already 27 thriving farms. More were growing cotton, taking advantage of a world-wide shortage during the American Civil War. Other crops were oats, maize, potatoes and tobacco.
In 1870, merchants George and John Harris bought land from early settler Robert Dunn and established a store and a cotton gin to separate seed from cotton. The property was sold to Cribb and Foote in 1873.
By the mid 1870s, cotton growing had declined but Harrisville continued to advance. A railway branch line was built in 1882 and was an added incentive to development. The town soon has its own hospital, school of arts, school, churches, banks and post office.
Normanby Shire Council was established in 1891, meeting in a building at Mutdapilly. The boundary was altered in 1903 and the shire hall was then relocated to Harrisville.
Subsequent council amalgamations saw Harrisville become a community of Moreton Shire (1949), Ipswich City (1995) and finally Scenic Rim (2008).