Peak Crossing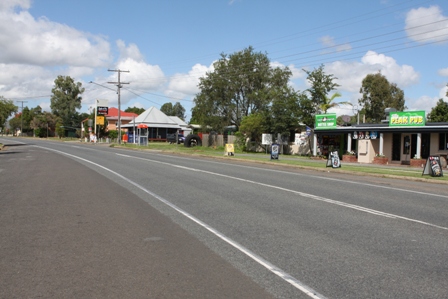 Peak Crossing is a rural town located 20 kilometres south of Ipswich in the far south-west corner of the Scenic Rim region. The origin of the name, Peak Crossing, refers to the road crossing of Purga Creek, near the Peak Crossing School, which was the junction at which prominent roads met.
East of the township is Peak Mountain, commonly known as Flinder's Peak, named after the explorer Matthew Flinders.
The town is surrounded by prime agricultural land, with small cropping practised right up to the edges of the town on the northern side.
Limestone was discovered in the area in the late 1890s and the Mount Flinders Dolomite Mine still operates today.
Places of note in the village
The Flinders Uniting Church on Warrill View-Peak Crossing Rd opened in 1872. It was replaced by the current church building in 1929 and was built by locals Walter Florence and Charlie Meier.
The Peak Crossing Community Hall, in the main street, was designed by architect Henry Wyman and built by contractor A.F. Shelback. The opening on Friday, 20 August 1926 was celebrated with a ball. The hall holds dances on the third Friday of the month and Country Markets in the grounds on the first Sunday of every second month from 7am to 1pm
On 4 September 1871, the Purga Creek No. 2 School opened. It was renamed Peak Mountain State School in 1879 and became the Peak Crossing State School in 1929. It now has an enrolment of around 180 and attracts enrolments from Ipswich.