2032 Olympic Games
On 21 July 2021, the International Olympic Committee announced Brisbane as the host venue for the 2032 Olympic and Paralympic Games.
The IOC decision is reward for years of hard work and the unprecedented collaboration from Mayors across South East Queensland that formed the foundations of the Brisbane 2032 proposal. The Olympic and Paralympic journey began on 6 March 2015 when the Council of Mayor (SEQ) unanimously resolved to explore the potential for a regional Games.
This is one of the most exciting announcements in South East Queensland's history and will help lay the foundations for decades of legacies for residents. The Games will be delivered across the South East, meaning the benefits are enjoyed across the region, with transport infrastructure being one of the main benefits of focus.
As part of the plan to deliver these regional Games, the Mayors of South East Queensland also proposed an SEQ City Deal; a long term agreement across three levels of Government to deliver the infrastructure we need – not just for a Games but for the future of our families and local industries.
For the Scenic Rim some of the transport benefits outlined in the proposal is the Bromelton - Mount Lindesay Highway connections, rail from Salisbury to Undullah, which is the first step in bringing rail to Beaudesert and other upgrades to Mount Lindesay Highway, which is one of the main access points to our region.
About half of the venue locations are within the Brisbane LGA, with others spread across South East Queensland. There are also a handful of venues outside of SEQ, spreading the benefits of the Games across the State.
Lake Wyaralong
The Scenic Rim's beautiful Lake Wyaralong will host the Games' rowing and canoeing events, which demonstrates our region's ability to host world-class sporting events as the home of Queensland's State Rowing Centre.
Aside from showcasing the region at a global level, the potential economic and social benefits of hosting the Games in South East Queensland will benefit the Scenic Rim for the long-term.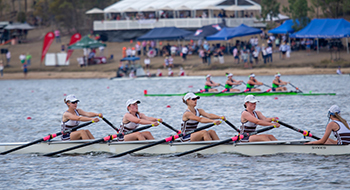 LEGACY 2042
The 2032 Brisbane Olympic and Paralympic Games are an excellent opportunity to create a lasting and valuable LEGACY for our community, the economy and the environment.
You can have your say on the Brisbane 2032 Olympics and Paralympic Games Legacy Plan here.