Division 6 - Cr Duncan McInnes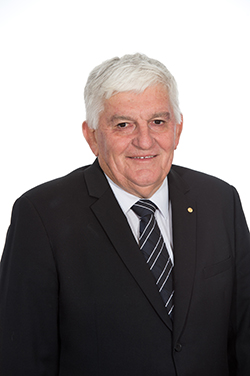 As of July 2023, Cr McInnes oversees the Biodiversity and Agribusiness portfolio.
Cr Duncan McInnes OAM was first elected to Scenic Rim Regional Council in 2012 and was re-elected unopposed in 2020. He was elected Deputy Mayor in May 2019 and again in April 2020.
Duncan has lived all his life at Radford, is married to Mary and has four daughters, three of whom live with their families in the Scenic Rim.
Duncan is involved in a family dairy farming enterprise which produces some four million litres of milk annually.
He has spent more than 30 years within the wider dairying community, having served as a director at local, state and national levels and has represented his industry internationally. He is also a Commissioner of Declarations.
Duncan currently holds positions in the following organisations:
Regional Development Australia Ipswich and West Moreton - Director
Darling Downs Moreton Rabbit Board - Director
Harrisville School of Arts Committee - Treasurer
Harrisville Cemetery - Trustee
The Royal National Agricultural and Industrial Association of Queensland (RNA) -Councillor
He is also a member of:
Harrisville & District Historical Society Inc.
Boonah Show Society
In January 2020 he was awarded an Order of Australia Medal for his service to the community and the dairy industry.
Cr Duncan McInnes - Introduction
Division 6
Encompasses the localities of Anthony, Aratula, Blantyre, Coleyville, Coulson, Fassifern, Frazerview, Harrisville, Hoya, Kalbar, Kents Lagoon, Limestone Ridges, Merryvale, Milora, Mount Forbes, Mount Walker, Moorang, Munbilla, Mutdapilly, Obum Obum, Peak Crossing, Radford, Roadvale, Rosevale, Silverdale, Tarome, Templin, Teviotville, Undullah, Washpool, Warrill View, Woolooman and Wyaralong.