Council's Parks, Gardens and Cemeteries team delivers the horticultural, arboricultural and landscape services required to manage Council's parks, planted roadside landscaping, other Council property and free tree schemes.
Its aim is to provide attractive functional parks, shady tree lined streets and unique roadside landscaping for the pleasure and future of residents and visitors to the Scenic Rim region.
Council operates a nursery at 73-81 Birnam St, Beaudesert (adjacent to Muriel Drynan Memorial Park) to propagate plants for use in Council parkland and for distribution to residents as part of the Annual Free Trees Program and for environmental initiatives.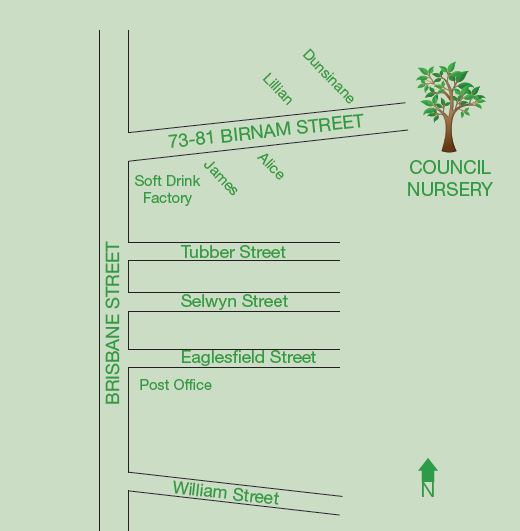 Annual Free Trees Program
Scenic Rim property owners are entitled to two free trees each year per rates assessment (up to a maximum of 10 trees for multiple property owners).
Upon presentation of your Free Tree Voucher (included with July rate notice), trees can be collected from Council's nursery on Fridays (excluding public holidays) between 9:30am and 3pm. In 2021, this includes New Year's Day on Friday 1 January and Good Friday on Friday 2 April. Vouchers will expire on Friday 25 June 2021.
A set amount of trees will be handed out on a first in, first served basis at the following times and locations:
| Tree Distribution Locations | Dates (8am to 12noon) |
| --- | --- |
| Tamborine Mountain - Main Street Median Strip | Saturday 31 October 2020 |
| Canungra - D J Smith Park | Saturday 3 October 2020 |
| Beaudesert - Nursery Birnam Street | Saturday 7 November 2020 |
| Boonah - Springleigh Park | Saturday 5 December 2020 |
| Harrisville - Harrisville Memorial Park | Saturday 6 February 2021 |
| Boonah - Springleigh Park | Saturday 6 March 2021 |
| Beaudesert - Nursery Birnam Street | Saturday 1 May 2021 |
Plant Types Available
Ground cover/rockery (up to 0.5m)
Dwarf Shrubs (up to 2m)
Medium Canopy (up to 10m)
Screening Shrubs (2m to 6m)
Specimen Shrubs (2m to 4m)
Large Canopy (10m+)