Parks, playgrounds and lookouts
Status of Scenic Rim parks and playgrounds in response to COVID-19
Council's playgrounds, skateparks and barbecue facilities are open subject to the Queensland Government's roadmap to easing Queensland's restrictions. Please ensure that you maintain social distancing and hand washing hygiene.
Useful information: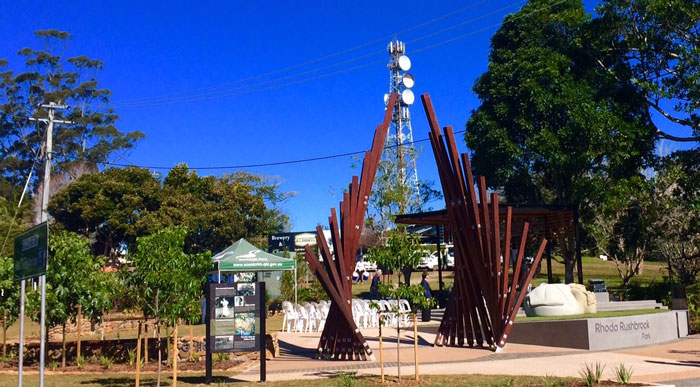 Playgrounds have an important role in providing free and fun activity for our children.
Our Council supports the fundamental human right of play by providing playgrounds that enable children to develop, learn, grow and have fun.
Playgrounds can also help revitalise and sustain communities where they become a visitor attraction in their own right.
View the current Playground Strategy here.
The objective of this strategy is to provide a sustainable network of playgrounds that are attractive, safe and affordable for the community.
Click locality for park and playground information.
Aratula
Aratula Roadside Rest Area
Cunningham Highway
Moffatt Memorial Park
37 Elizabeth Street
Picnic Table
Play Equipment
Barney View
Flanagan Reserve
135 Flanagan Reserve Road
Beaudesert
Apex Park
William Street (near Medical Centre)
Central Park
1 Cedar Drive
Central Place
Cnr Brisbane Street & William Street
Davidson Park
86 Brisbane Street
Picnic Tables
Play Equipment
Dick Westerman Park
2-14 Brisbane Street
Public Toilets
Picnic Tables
Seating
Rotunda
Play Equipment
Information Centre
Hugo Drive Park
Hugo Drive
Picnic Shelter
Play Equipment
Jubilee Park
Brisbane Street, McKee Street & Telemon Street
Public Toilets
Picnic Tables
Play Equipment
Electric BBQ's
Basketball Half Court
Bandstand
Skate Park
Exercise Equipment
Junior Chamber Park
Brooklands Drive & Stirling Street
Public Toilets
Picnic Tables
Play Equipment
Electric BBQ
Keith Little Park
Kathleen Crescent
Picnic Table
Play Equipment
Lions Bicentennial Park
15-23 McKee Street & Tom Enright Drive
Public Toilets
Picnic Tables
Play Equipment
Electric BBQs
Mavor Park
1-11 Helen Street & 13-19 Petersen Street
Muriel Drynan Memorial Park
73-81 Birnam Street
Picnic Shelters
Play Equipment
Nev Spillane Park
Eaglesfield Street
Selwyn Park
Bromelton Street & Hopkins Street
Public Toilets
Picnic Tables
Play Equipment
Managed Sports Grounds
Willis Park
2-4 Petersen Street
Beechmont
Graceleigh Park
1908 Beechmont Road
Public Toilets
Picnic Tables
Play Equipment
Wood Fire BBQ's
Managed Sports Ground
Tennis Club
ANZAC Memorial
McInnes Estate Parks
McInnes Court
Nell Scott Park Road Reserve
Beechmont Road
Rosin's Lookout & Hang Glider Toilets
Beechmont Road
Public Toilets
Picnic Tables
Electric BBQs
Hang Glider Take Off Points
Boonah
Bicentennial Park
20 Boonah Fassifern Road
Public Toilets
Picnic Shelters
Electric BBQ's
Information Centre
Boonah Administration Building & Public Toilets
70 High Street
Coronation Park
Coronation Drive & Alfred Street
Public Toilets
Picnic Tables
Skatepark
Exercise Equipment
Walking Track
Water Bubbler
Managed Sports Ground
Springleigh Park
Hoya Road & Coronation Drive
Public Toilets
Picnic Tables
Play Equipment
Electric BBQs
Tiny Tots Park (Rotary Park)
Little High Street
Public Toilets
Picnic Table
Play Equipment
Boyland
Wagonwheel Road Reserve
Wagonwheel Road
Canungra
DJ Smith Park
1-3 Kidston Street & 39-41 Christie Street
Public Toilets
Picnic Tables
Electric BBQs
Play Equipment
ANZAC Memorial
Laheys Tramway (Tunnel)
Beaudesert Nerang Road
Lions Park Canungra
Beaudesert Nerang Road & 2 Coburg Street
Moriarty Park
2-26 Monarch Drive & 9-37 Coburg Road
Picnic Shelters
Play Equipment
Basketball Half Court
Skate Park
Dog Off Leash Area
Managed Sports Ground

Exercise Equipment
Riverbend Drive Park
Picnic Place
Darlington
Darlington Park
2505 Kerry Road
Campground
Public Toilets
Picnic Shelters
Playgrounds
Dugandan
Dugandan Park & Pathway
Boonah Rathdowney Road
Stanfield Estate Park
Bruckner Street
Toby Slater Park
Boonah Rathdowney Road
Picnic Tables
Play Equipment
Electric BBQ
Fassifern
Fassifern Reserve
Cunningham Highway
Public Toilets
Picnic Tables
24hr Camping
Gleneagle
Everdell Park
148-160 Mount Lindesay Highway
Quota Park
57-67 & 58-68 Tullamore Way
Picnic Tables
Play Equipment
Harrisville
Harrisville Memorial Park
43-47 Queen Street
Public Toilets
Picnic Tables
Play Equipment
Electric BBQ's
ANZAC Memorial
Lions Rotary Park
10-12 Wholey Drive
Picnic Tables
Play Equipment
Seating
Electric BBQs
Pioneer Park
Queen Street
Hillview
Cahill Park
Widgee Creek Road and Christmas Creek Road
Picnic Table
Wood Fire BBQ
Hillview Park
Widgee Creek Road
Il-Bogan
Il-Bogan Park
3169 Beaudesert Boonah Road
Picnic Tables
Wood Fire BBQs
Innisplain
Langdon Reserve
Mount Lindesay Highway
Kalbar
Engelsburg Park
25-27 Edward Street
Public Toilets
Picnic Tables
Wood Fire BBQs
ANZAC Memorial
Kalbar Civic Centre Park
78-80 George Street
Public Toilets
Picnic Tables
Play Equipment
Electric BBQs
JEC Pennell Park
22-24 George Street
Seating
Play Equipment
Basketball Half Court
Kooralbyn
Billabong Park
Salisbury Avenue
Public Toilets
Playground
Picnic Table
Boomerang Lagoon Park
151-219 Wellington Bundock Drive
Play Equipment
Picnic Tables
Wood Fire BBQs
Brooks Drive Lookout Kooralbyn
Brooks Drive
Hinchcliff Bridge Park
36 Routley Drive, 2 Hinchcliffe Drive & Salisbury Avenue
Kooralbyn Community Park
79 Ogilvie Lane
Lamington
Burgess Park
Christmas Creek Road
Campground
Public Toilets
Picnic Shelters
Stinson Park
Christmas Creek Road
Campground
Public Toilets
Picnic Tables
Maroon
HG Slatter Park
Slatter Park Road
Public Toilets
Picnic Tables
Boat Ramp
Waterfall Creek Reserve
Waterfall Creek Road
Campground - No Facilities
Moogerah
AG Muller Park
Muller Park Road
Mt Alford
Bowman Park
1 Cavanagh Street
Public Toilets
Picnic Tables
Seating
Basketball Half Court
Play Equipment
BMX Track
Peak Crossing
Goolman Park
19-35 Flinders Street
Peak Mountain View Park
Ipswich Boonah Road
Public Toilets
Picnic Shelters
Play Equipment
Electric BBQs
ANZAC Memorial
Rathdowney
Bigriggen Reserve
196 Bigriggen Road
Captain Logan Lookout
25 John Street
Collins Park
Collins Street
Public Toilets
Picnic Tables
Play Equipment
EM Tilley Memorial Park
10527 Mount Lindesay Highway
Public Toilets
Picnic Tables
Wood Fire BBQs
Rathdowney Memorial Grounds
John Street Collins Street & Mount Lindesay Highway
Public Toilets
Picnic Tables
Play Equipment
Electric BBQ
Information Centre
Bowls Club
Managed Area
Roadvale
Roadvale Park
Gray Street
Picnic Table
Play Equipment
Running Creek
Andrew Drynan Park
Running Creek Road
Tamborine
Fred Bucholz Park
Walnut Road
Middle Park
2205 Beaudesert Beenleigh Road
Public Toilets
Picnic Tables
Skate Park
Tamborine Memorial Hall
2680-2726 Waterford Tamborine Road
Public Toilets
Picnic Tables
Play Equipment
Electric BBQ
ANZAC Memorial
Leased Buildings
Tambourine Park
Tamborine Mountain
Bishopp Park
12-20 Tweed Heads Avenue
Dapsang Reserve
Dapsang Drive
Doughty Park
2-10 Main Western Road
Public Toilets
Picnic Tables
Seating
Play Equipment
Information Centre
Eagle Heights Park
18 Cliff Way
Esme Street Environmental Park
38-52 Esme Street
Gallery Walk Toilets
128A Long Road
Guanaba Park
57-71 Siganto Street & 2-12 Golf Course Road
Picnic Tables
Play Equipment
Wood Fire BBQs
Holt Park
1-9 Holt Road & 94-102 Hartley Road
Picnic Table
Wood Fire BBQ
Lahey's Lookout Park
Lahey's Lookout Road
Lions Park Tamborine Mountain
99-113 Curtis Road
Picnic Tables
Electric BBQs
Play Equipment
Long Road Sports Complex
364-412 Long Road
North Tamborine Park (Geissmann Oval)
11-27 Geissmann Street
Public Toilets
Picnic Shelters
Play Equipment
Electric BBQs
Wood Fire BBQs
Managed Sports Ground
Skate Park
Rhoda Rushbrook Park
Cnr Long and Eagle Heights roads, Gallery Walk
Robert Sowter Park (Hang Glider Toilets)
235-329 Main Western Road
Rosser Park
2-16 Prospect Street
Public Toilets
Picnic Tables
Play Equipment
Wood Fire BBQs
Staffsmith Park
2-12 Stradbroke Ave, 48-58 Southport Avenue & 30-40 Central Avenue
Public Toilets
Picnic Tables
Seating
Play Equipment
Wood Fire BBQs
Basketfall Half Court
Cricket Pitch
Exercise Equipment
Dog Off Leash Area
Tamborine Heights Park (Including Justin's Lookout)
263-267 MacDonnell Road
Tamborine Mountain Botanic Gardens
19-27 Forsythia Drive
Public Toilets
Picnic Tables
Seating
Witches Falls Road Reserve
Main Western Road
Picnic Tables
Wood Fire BBQs
Youngman Family Park
21-43 GeIssmann Drive
Veresdale Scrub
King Coolum Reserve
Panicum Close
Warrill View
Cunningham Lookout
Rosewood Warrill View Road
JF Burnett Park/Lions Park
Bath Street
Public Toilets
Picnic Shelters
Play Equipment
Electric BBQ's
Wood Fire BBQs
Witherin
Canungra Downs Park
83 Climax Court
Sharp Park (James Sharp Memorial Park)
3069 Beechmont Road
Camp Grounds
Public Toilets
Picnic Shelters
Wonglepong
The Henry Franklin Family Park
Mudoolun Connection Road
The Hugh Mahoney Reserve
Mudoolun Connection Road
Yellow Pinch
Yellow Pinch Reserve
Upper Logan Road
Public Toilets (Composting Toilet)
Picnic Shelters