Growth Management Strategy
Planning for Scenic Rim's Growing Population
Scenic Rim has experienced steady population growth over the last decade and was home to 40,072 residents in 2016, which increased to 43,123 in 2019.
As forecasted by the ShapingSEQ South East Queensland Regional Plan 2017, this growth is expected to reach 62,000 by 2041.
Around 10,000 additional dwellings will be needed to support this population growth underpinned by over 7,600 new jobs as well as essential infrastructure, services and facilities.
It is important that this growth is properly planned and delivered in an efficient and holistic manner. At Council's Ordinary Meeting of 22 June 2020, it was resolved to prepare the Scenic Rim Growth Management Strategy (GMS), delivered through a comprehensive project management plan to guide its development.
The Queensland Government's Ministerial conditions of approval for the adoption of the Scenic Rim Planning Scheme 2020 also require Council to prepare a GMS.
How the growth management strategy is being prepared
Key GMS phases and indicative timelines
The project is currently in Phase 2 - drafting of the growth management strategy.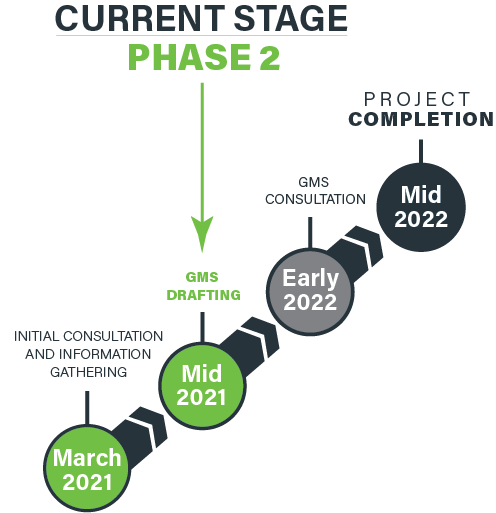 PHASE 1

Confirming trends and planning assumptions

This phase confirms trends and planning assumptions to understand core matters for residential and employment growth which will be used as a baseline to draft the GMS.

Early stakeholder and community consultation will be undertaken during this phase including the GMS online survey.

PHASE 2

Drafting of the GMS

Phase 2 draws together the findings and analysis of Phase 1, including the outcomes of the community consultation survey to prepare the draft GMS.

This phase will include the development of a strategy to achieve Council's dwelling and employment targets, policy development processes, scenario testing, financial analysis and a preferred growth management sequence, and associated implementation plan.

This phase has been extended to accommodate additional targeted consultation with State Government Agencies and Urban Utilities. Public consultation of the draft GMS will be undertaken in early 2022.

PHASE 3

Public consultation on the draft GMS

Undertake targeted stakeholder and community engagement to gather feedback on the draft GMS.

PHASE 4

GMS finalisation, implementation and project completion

Final refinement of the GMS based on the feedback of Phase 3 community and stakeholder engagement.

Upon finalisation of the GMS, Council will undertake comprehensive implementation planning to integrate the outcomes of the GMS with Council's planning scheme, policies and processes.
Key dates
| | |
| --- | --- |
| 9 December 2019 | Council endorsed the commencement of a region-wide Scenic Rim Growth Management Strategy. |
| 22 June 2020 | Council (in closed session) adopted the Scenic Rim Growth Management Strategy Project Management Plan and endorsed the commencement of the project in July 2020. |
| 9 March 2021 | Council endorsed the Scenic Rim Growth Management Strategy Stakeholder Engagement Strategy and consultation survey. |
Further information
For more information on the Scenic Rim Growth Management Strategy please contact the Strategic Planning Team on (07) 5540 5111 or mail@scenicrim.qld.gov.au