Division 5 - Cr Marshall Chalk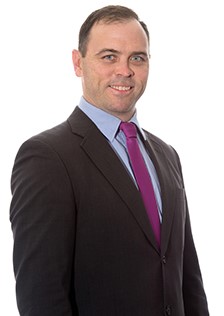 As of July 2023, Cr Chalk oversees the Sport and Recreation portfolio.
Cr Marshall Chalk lives in the Scenic Rim area of Carneys Creek, south of Boonah, and is the fourth-generation farmer on his family's dairy and beef property. He currently operates a beef cattle business, breeding and backgrounding cattle, and also operates beef and pig feedlots on his property in the South Burnett Region with his wife Samantha and their three boys.
Marshall attended Mount Alford State School and Boonah State High School and, after finishing Year 12, worked on the family farm. He then followed his passion to play rugby league, firstly playing for the Fassifern Bombers and the Ipswich Jets before moving to Canberra to play professional Rugby League for the Canberra Raiders. He then moved to the United Kingdom to play for the Celtic Crusaders in the English Super League, before returning to work the family farm in 2010.
Marshall is actively involved in the local community as a member of the Fassifern Lions, Vice President of the Maroon State School P & C and as an Officer and Deputy Fire Warden in Croftby Carneys Creek Fire Brigade. He was elected to Division 5 in the 2020 local government elections.
In his spare time you can find Marshall having a hit of cricket with the Fassifern Bushrangers or playing a round of golf at the Boonah Golf Club.
Cr Marshall Chalk - Introduction
Division 5
Encompasses the localities of Clumber, Mount Edwards, Moogerah, Charlwood, Fassifern Valley, Carneys Creek, Croftby, Mount Alford, Bunjurgen, Mount French, Kents Pocket, Templin, Boonah, Dugandan, Wallaces Creek, Coochin, Bunburra, Milford, Allandale, Cannon Creek, Maroon, Burnett Creek, Mount Barney, Barney View, Rathdowney, Tamrookum, Tamrookum Creek, Knapp Creek, Innisplain, Oaky Creek, Running Creek, Palen Creek and Mount Lindesay.