Resilient Rivers Initiative
Resilient Rivers Initiative/Logan-Albert Catchment Action Plan 2017-2020
The Resilient Rivers Initiative 2015-2025 was created in December 2014 with the aim of collaboratively improving the health and resilience of South East Queensland's catchments, rivers and Moreton Bay. A 10 year strategy was released in 2015 identifying its vision.
That is:
"By 2045, the catchments of South East Queensland (SEQ) will support a resilient, productive, liveable and growing region".
The Vision has the following goals:
Keep soil on our land and out of the waterways to support agricultural productivity and improve water quality.
Help protect our region's water security so it can support the current and future population of SEQ.
Improve the climate resilience of our region.
Promote partnerships with strong leadership to deliver a coordinated approach to catchment management in SEQ.
The development of a Logan-Albert Catchment Action Plan 2017-2020 arose from the strategy identifying priority on ground and policy actions with the purpose to:
Use a whole of catchment approach to collaboratively identify actions that will help to achieve the vision of the Resilient Rivers Initiative.
Identify actions that are underpinned by the best of our knowledge and understanding and reflect the values of the community.
Provide a single strategic framework and rationale for coordinated investment by stakeholders.
Council is currently working towards the delivery of several actions from the Logan-Albert Catchment Action Plan for the 2019-2020 financial year. These actions include a series of landholder engagement, weed treatment works and environmental education events.
Logan-Albert Catchment Action Plan 2017-2020
Mid-Logan Focal Reach - Riparian Landholder Engagement Project
As the Mid-Logan reach has undergone significant change through urban and peri-urban growth, this area suffers from severe stream bank and in channel erosion resulting in increased sediment and nutrient loading into the waterway.
Scenic Rim Regional Council is working on the delivery of a riparian project within the Mid-Logan focal reach. The project, which has a very strong focus on landholder and stakeholder engagement has the following key objectives:
Investigate options for on-ground bank stabilisation/restoration works and associated engagement programs in the Mid-Logan River sub-catchment.
Identify opportunities and challenges for effective on-ground works and engagement programs with achievable delivery options and objectives.
Further information:
Revegetation Work
In 2019, Logan and Scenic Rim councils collaborated with private landowners to plant 4,500 trees along a stretch of the Logan River at Woodhill and Allenview.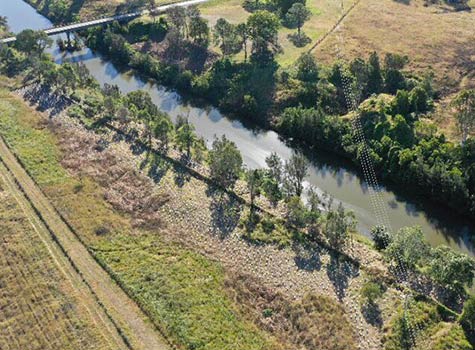 Another 3,000 trees are scheduled to be planted along the riverbank at Allenview as part of Stage Two.
These native trees have been planted along the banks of the Logan River to reduce sediment loss, protect against severe weather events, and ultimately, improve the water quality and health of Moreton Bay.
Read the Council of Mayors' press release here.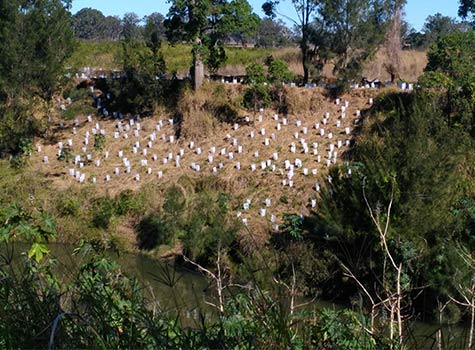 Photos
Please click on the photos below to see in larger form.
Council officers have conducted weed treatment works in the Logan Catchment area, specifically for Cat's Claw.
Before Infestation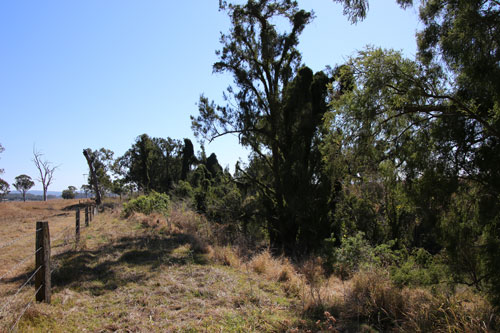 After Infestation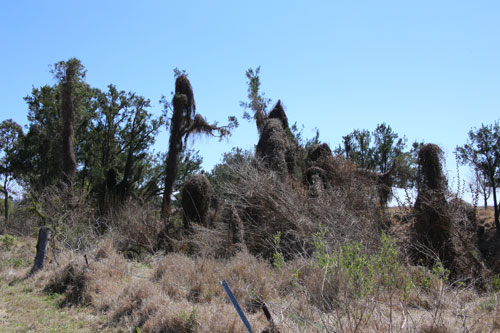 Treatment Program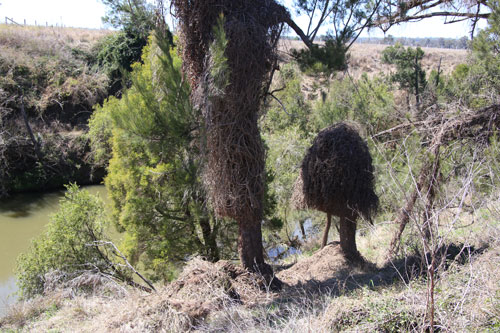 Environmental Education Events like the Scenic Rim Carp Cup help inform Scenic Rim residents about local issues.