Australia Day Awards
Nominations are now open for the 2021 Australia Day Awards.
Scenic Rim Regional Council's annual Australia Day Awards program is held to acknowledge the significant contributions made by individuals and groups to the community. Being nominated for an Australia Day Award is a great honour. The Awards give the community the opportunity to publicly recognise and reward an outstanding person. You are invited to nominate a friend, family member, community leader or a colleague - the unsung heroes who you believe makes the Scenic Rim a great place to live. Let's give them the recognition they deserve.
Nomination form

Nominations Close 4.30pm Monday 9 November, 2020.

2021 Australia Day Awards categories
COMMUNITY EVENT OF THE YEAR AWARD (30 Nov 2019 – 30 Nov 2020)
Individual, group or organisation who has staged the most outstanding community or virtual event in the Scenic Rim. Events must have taken place between 30 November 2019 and 30 November 2020.
CITIZEN OF THE YEAR AWARD (16 – 30 years)
An exceptional young person aged 16-30, accomplishing great things in all walks of life, making a positive and outstanding contribution to the Scenic Rim community. Must between 16 and 30 years of age as at 26 January 2021.
CITIZEN OF THE YEAR AWARD (31 – 65 years)
A leading citizen, considered an inspirational role model to the Scenic Rim community and a person who inspires us to be a friendly, caring and engaged community. This person has taken risks, done the hard yards and had a positive impact on a wide range of people in the Scenic Rim. We recognise their extraordinary commitment to service in the local community over a number of years. Must be between 31 and 65 years of age as at 26 January 2021.
CITIZEN OF THE YEAR AWARD (65+ years)
An inspirational person aged 65 and over, who continues to achieve and contribute outstanding service to the local Scenic Rim community. A person who proudly gives back to the community and presents a positive image of ageing. Must be aged 65 years or older as at 26 January 2021.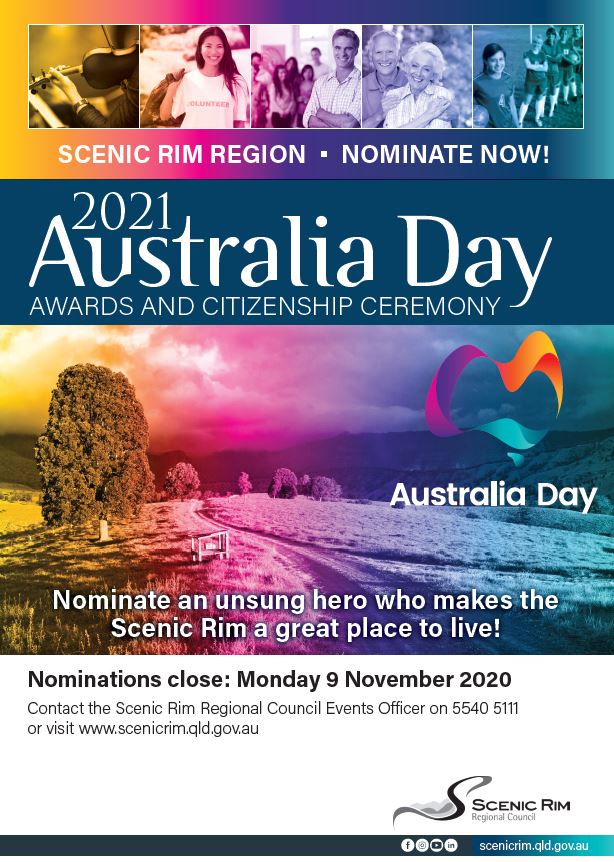 2020 Australia Day Award Winners
| CATEGORY | RECIPIENT |
| --- | --- |
| Community Involvement Award | Koorablyn Valley Community Development Assn |
| Citizen of the Year (16-30 Years) | Grace McDonald |
| Citizen of the Year (31-65 Years) | Mark Ayers |
| Citizen of the Year (65+ Years) | Frank White |
| Mayor's Award | Lesley Klan |