BUSINESS EXCELLENCE CELEBRATED AT SCENIC RIM'S NIGHT-OF-NIGHTS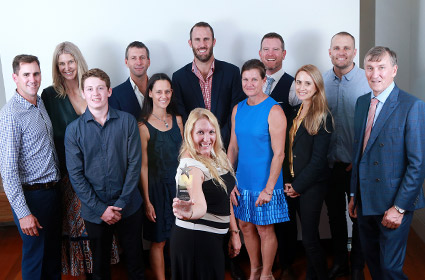 The best of the best Scenic Rim businesses and the trainees who represent the future of the region have been recognised in a sell-out awards presentation by Scenic Rim Regional Council this evening.
More than 230 guests gathered at The Centre Beaudesert for the announcement of the 2019 Scenic Rim Business Excellence Awards, where Tinamba Turf was named Business of the Year, 16-year-old Max Patterson became Trainee-Apprentice of The Year and six businesses were recognised for their achievements.
Mayor Greg Christensen welcomed Minister for Employment and Small Business and Minister for Training and Skills Development Shannon Fentiman, Member for Wright Scott Buchholz and Member for Scenic Rim Jon Krause to the awards which celebrated the individuals and businesses which are driving the region's economic growth and powering the Scenic Rim brand.
Cr Christensen said competition had been keen among the 71 nominations from 51 businesses across six categories, creating a challenge for the panel of judges.
"In making their decision, the judges considered a range of factors including businesses' outstanding customer service, environmental awareness, understanding of their target markets, well-defined and understood business strategy, rigorous systems, effective risk management, financial performance and a clear commitment to excellence in all facets of their operation," he said.
"I have been inspired by the stories behind so many of these businesses which go above and beyond to deliver the highest levels of customer service while adding value to our regional economy, contributing to its strong trajectory of growth, and providing local employment opportunities for members of our communities.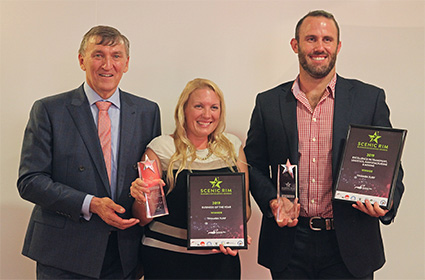 Business Of The Year - Tinamba Turf
"Some of our entrants have seen a dramatic increase in turnover. Others have had spectacular growth in social media reach and engagement thanks to a concerted push into this area of marketing.
"Some have invested in infrastructure and equipment to grow their business, while others have continued a laser-sharp focus on customer service and kept up a decades-long practice of ensuring they spend locally."
Recent research has shown the region's economic growth and employment in the 2017-18 year surpassed Queensland's averages, when Gross Regional Product achieved the highest dollar value in the life of the Scenic Rim.
Investment by businesses, which have recognised the opportunities presented by the Scenic Rim, has generated strong revenue and jobs growth across all sectors.
"Some of our tourism businesses are seeing double digit growth in bookings, while some of our hospitality vendors are doubling their staff numbers, then doubling them again and again," Cr Christensen said.
Ongoing investment in tourism and hospitality by the business community has helped to boost the Scenic Rim's economy and this has been supported by Council's continuing investment in infrastructure - the region's roads and bridges - as a key foundation for continued economic confidence.
Council's Bridge Renewal Program and Federal Government funding for bridge restoration projects will see a reduction from 77 unacceptably load-limited bridges to just four by the end of this year.
This will strengthen the economic capacity of the region through improved connectivity, providing benefits for the tourism and agriculture sectors.
"Of course, many in our agricultural industries have faced challenges with extreme weather events over the past year," Cr Christensen said.
"One story in an awards submission which clearly illustrates the difference which outstanding customer service can make was of the commitment by an employee to repair a harvester before bad weather set in.
"That employee worked on the harvester for hours before retiring to a swag in the paddock for just four hours' rest, to ensure he was able to get straight up and on the job, so no produce was lost in an impending severe weather event.
"That's indicative of our Scenic Rim business community - of its grit and determination, commitment to excellence and dedication to the service of customers and the region to go above and beyond."
The 2019 Business Excellence Awards were presented in the categories of: Tourism, Accommodation and Hospitality; Retail; Professional and Community Services; Transport, Logistics, Manufacturing and Mining; Trades and Construction; and Agriculture.
For the first time, the awards have included a category to acknowledge the trainees and apprentices who represent the future growth and development of the region.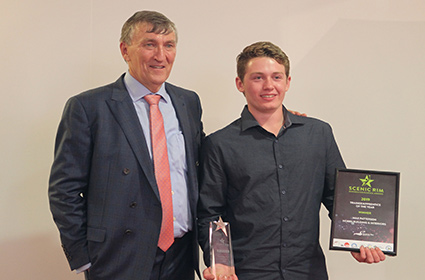 Trainee-Apprentice of the Year - Max Patterson
Cr Christensen said that, as well as celebrating excellence in business, the awards nomination process had been recognised by many businesses as a valuable exercise in continuous improvement.
"The feedback that I have had from the business community is that many have regarded the nomination process as an opportunity for self-reflection, identifying areas for improvement which has been a business development strategy in its own right," he said.
"The businesses and individuals taking home awards this evening should inspire others to strive for similarly high standards of excellence which are building the reputation of the Scenic Rim as a great place to do business."
The award winners in the following categories were:
Excellence in Trades and Construction - Hobbs Building & Interiors
Hobbs Building & Interiors is a custom build construction firm operated by husband-and-wife duo Luke and Nikki Hobbs, located in Canungra. Specialising in steel frame, eco-friendly construction of both residential and commercial projects, their mission is to be the preferred Scenic Rim custom builder delivering quality projects of modern country style, while offering value-add expertise to eco-friendly home-owners.
Excellence in Transport, Logistics, Manufacturing and Mining - Tinamba Turf
Tinamba Turf has been growing, delivering and installing high-quality lawns since 1988. It has the widest range of turf varieties of any turf farm in the country and specialises in varieties grown specifically for south-east Queensland. Tinamba Turf supplies to residential, boutique and commercial customers.
Excellence in Professional and Community Services - Beaucare
Beaucare is a community-based, not-for-profit organisation focused on maximising the quality of life of residents in the Scenic Rim - to keep people living in their own homes, living in the region and supported by a caring community. It provides services including aged care, child care, disability support, community support, a community centre and emergency relief. Beaucare provides more than 8,000 hours of support to more than 1,000 clients each month.
Excellence in Retail - Outland Denim
Outland Denim, owned by James and Erica Bartle, crafts and sells high-quality, premium denim jeans and other apparel in the global marketplace. They source the finest raw materials from around the world while offering sustainable employment and training opportunities to women rescued from human trafficking and sexual exploitation. While their training and production facility is in Cambodia, the business is proudly headquartered in the Scenic Rim on Tamborine Mountain.
Excellence in Agriculture - Summer Land Camel Farm
Summer Land Camel Farm is the largest commercial camel dairy and milk processing, camel breeding and farming operation outside the Middle East. The farm produces a range of products including camel milk, Persian Feta, Haloumi, Fromage Blanc and camel meat, as well as a range of skin care products. Summer Land Camel Farm's products are sold in more than 200 locations around Australia as well as online.
Excellence in Tourism, Accommodation and Hospitality - Mount Barney Lodge
Mt Barney Lodge is a 30-hectare eco-tourism retreat adjacent to the World Heritage-listed Mt Barney National Park. The Lodge specialises in group and family bookings with accommodation options including Queenslander homesteads, cabins, deluxe camper trailers and camping. It also offers outdoor education and adventure activities, school camps and catering. In 2019, the venue is introducing the Three Peaks Challenge - the ultimate five-day hiking adventure, that highlights three of the Scenic Rim's most spectacular mountains.
Trainee/Apprentice of the Year - Max Patterson
Sixteen-year-old Max Patterson is a first-year Carpentry apprentice at Hobbs Building & Interiors, completing his Certificate IV in Carpentry. Max is excelling in his training and his carpentry skill set far exceeds the usual standard of a typical first-year apprentice. He has earned the trust of the Hobbs management team and builder Luke Hobbs is now so confident in his workmanship that Max is trusted to assist directly on client projects with tasks such as cutting and installing materials.
The judging panel commented that while currently completing an apprenticeship, Max shows confidence, initiative, customer service ethic, involvement and a commitment to his trade and his employers, as and they have to him. He has clear aspirations for his future and capability to achieve his goals and dreams through his learning and skills development.
Business of the Year - Tinamba Turf
Tinamba Turf has been growing, delivering and installing high-quality lawns since 1988. It has the widest range of turf varieties of any turf farm in the country and specialises in varieties grown specifically for south-east Queensland. Tinamba Turf supplies to residential, boutique and commercial customers.
The judging panel commented that the business had displayed excellence in business presentation, branding and marketing - telling and selling its story. Evidence of excellence in business management and environmental awareness was the planned control of water and soil management for consistent product delivery. Tinamba Turf is backing its management and business modelling with leadership in the industry's future. It is also extending its business excellence by developing its own software application to digitally integrate all management processes from staff inductions, staff training, workplace health and safety, risk management, and logistics through to financials.
See the mega photo gallery here.