INSPIRING THE NEXT GENERATION OF SCENIC RIM LEADERS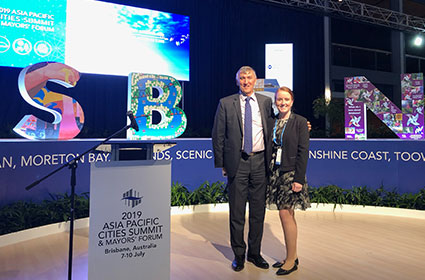 Scenic Rim civil engineer Sara Stanley recently joined city leaders from around the world, including Mayor Greg Christensen, at The Asia Pacific Cities Summit (APCS) and Mayors' Forum in Brisbane last week.
The event theme - Driving Cities through Business and Innovation - addressed four main topics including Innovation of Cities, Mobility of Cities, Liveability of Cities and Sustainability of Cities.
As part of the four-day summit from 7 to 10 July 2019, The Young Professionals Program in which Sara participated has long been attracting the attention of the next generation of leaders across the Asia Pacific region.
Scenic Rim resident and Civil Engineer Sara Stanley from ACS Engineers Beaudesert was among the 150 Young Professionals awarded a position to attend the forum.
Humbled by her nomination by her employer ACS Engineers, Sara said, "It was a surprise to not only be nominated but also to win."
"I consider myself very lucky to be associated with a workplace that supports professional development and encourages me to embrace every opportunity," she said.
Sara also expressed gratitude to Scenic Rim Regional Council for providing her with the opportunity to attend the event and expand her professional networks.
"Attending the event was an invaluable experience where I now understand that a community's input into their city's development and future is extremely important, including the community's voice and how this ultimately shapes city's planning, progress and future," she said.
"This was reiterated within the Young Professionals' Forum and how our individual roles can make a difference."
Sara's favourite keynote was Netflix Co-Founder Marc Randolph who provided great learnings about inspiring the next generation.
Mayor Greg Christensen said Scenic Rim Regional Council was proud to be able to support the development of the region's young professionals.

"With 140 cities participating from all over the world, the biennial event has brought the world's brightest professionals together in order for us as a region to learn, grow and effectively contribute to the success and sustainability of the Scenic Rim," he said.
"With a number of leading thinkers presenting and facilitating discussion, the Asia Pacific Cities Summit 2019 has continued to raise the bar in thinking about communities of tomorrow, not just today.

"It is particularly pleasing to see a strong cohort of young professionals from diverse industries, countries and career contexts engaging proactively and productively with us as civic leaders."