DESTINATION MARKETING CAMPAIGN TO PUT SCENIC RIM BACK ON THE MAP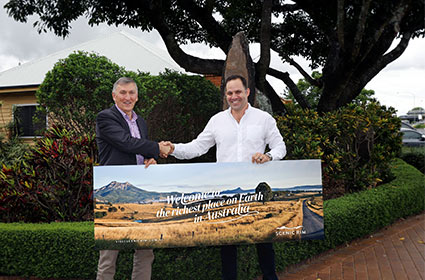 Scenic Rim Regional Council has launched a new destination marketing campaign to reposition the region on the tourism map and bring visitors back following the recent bushfires.
Made possible by a contribution of $100,000 from Tourism and Events Queensland, as well as a donation by creative agency Brother and Co, the campaign to promote the region's visitor values is pitching the Scenic Rim as "the richest place on earth … in Australia" and is being rolled out ahead of the approaching peak holiday season.
Scenic Rim Mayor Greg Christensen said that while fires affected only one per cent of the region, the perception of devastation had resulted in a significant number of cancellations by potential visitors, with accommodation and tourism operators continuing to feel the pinch two months after the localised disaster.
"If you add to that, the flow-on effect to many businesses which support our tourism operators by providing goods and services, the impact for our region is quite significant," he said.
"Importantly, the message now is that our luxury lodges, authentic farm stays, cosy cottages, camping and glamping, as well as our wide variety of fabulous experiences, are ready and waiting for visitors to come and enjoy.
"This new campaign highlights the natural beauty, country charm and unforgettable experiences that await the visitor here in the Scenic Rim."
The campaign, which rolls out from this week over the next month, features 18 high-profile electronic billboard sites across Brisbane and the Gold Coast, three 15-second videos showing across digital channels and sponsored posts on Instagram.
This paid advertising complements other media exposure being generated by Council, including blogs on some of the most widely read tourism sites, and coverage on television programs including Queensland Weekender and Great Day Out.
Council has partnered with 25 of the region's tourism operators to offer special deals on its visitscenicrim.com.au website as part of the campaign.
Cr Christensen acknowledged the generosity of agency Brother and Co, which donated its services to the Scenic Rim community to help in the region's recovery.
"The team at Brother had been working with Council on a brand strategy project earlier in the year," he said.
"They fell in love with our region and its people and, as a result, wanted to do something tangible to help us get back on our feet after the bushfires.
"Their donation will help us encourage visitors back by showing just how wonderful the Scenic Rim is, with so many places to stay and things to do."
The campaign capitalises on the national recognition received by the region with the Scenic Rim being awarded Most Outstanding Region at the recent delicious. Harvey Norman Produce Awards in Sydney (the only region in Queensland ever to have received this prestigious award), and Scenic Rim Eat Local Week being awarded Best Single Event or Activity at the National Economic Development Awards in Adelaide last week.