Our Council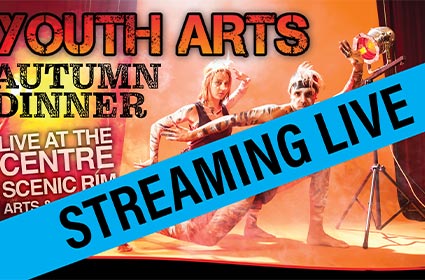 19 March: The entertainment and panel discussions for the Scenic Rim Regional Council's Arts Dinner tomorrow night will still go ahead, although the dinner has been cancelled.
In the finest showbusiness tradition, Goat Track Theatre company will ensure the entertainment and panel discussion for Scenic Rim Regional Council's Arts Dinner tomorrow night goes ahead although the dinner has been cancelled.
Government health directives concerning COVID-19 have compromised many events across the region, which is why Council's first Arts Dinner for 2020 has been reimagined.
Elements of the event, such as the entertainment and expert panel discussion, will go ahead without an audience presence at The Centre Beaudesert and will now be available to a wider audience through a live broadcast.
Young people with an interest in arts and culture or who are hoping to forge a career in the creative industries are the focus of the Autumn Arts Dinner offering budding young artists the opportunity to learn from industry professionals who are succeeding in their own fields of arts practice.
The creative online solution to the event cancellation, through live streaming of the entertainment and panel discussion from 6.30pm tomorrow night, will offer all members of the community the opportunity to connect with the event and engage in the discussion about youth arts.
This interactive event will be hosted by Andrew Wright from Tamborine Mountain's Goat Track Theatre company, which is widely regarded as a national leader in regional youth theatre and innovator of creative solutions.
"This is a great chance for us to connect as a community and share knowledge and will show that just because we have to be in physical isolation we don't have to be in social isolation," he said.
"It's a great way of continuing the Arts Dinner programming in a virtual world, despite the fact that the audience won't all be in the same room or be able to give each other a hug or share a plate."
The live broadcast will feature a discussion with panellists representing every facet of the arts industry sharing unique perspectives of their arts practice and secrets of their success, offering their advice to young artists.
Taking part in the panel discussion will be:
Alick Kilsby (Parker Sounds singer, songwriter and musician who will launch his new single Something Heavy
Brendan Knight and Raymond Cordingley (of the Mununjali Ngari Indigenous Dance Troupe, Beaudesert)
Johanna Lyon (stand-up comedian, Brisbane)
Cassandra Paddick (audio technician from Audio Wright and freelance sound recordist from Channel 9's Sea Change, Brisbane)
Richard Lawton (audio technician from Audio Wright and director of the Australian Independent Film Festival, Brisbane)
Angie Grace (musician), and
Leilani Croucher (director, Creative Director Revolver NSW).
Members of the community can connect with the event with the Zoom identification code for the live broadcast https://zoom.us/j/2097853486
Questions can be sent through in the Chat Box and will be answered during the evening.
"We have worked closely with Council to provide an innovative solution so that everyone with an interest in the arts and able to join in through Zoom is welcome to be part of this evening," Mr Wright said.
In responding to COVID-19, Council recognises that its cultural, community and library programs are critically important to many residents, and also play an integral role in building strong connections and communities, which is a great part of life in the Scenic Rim.
Where possible, Council has been exploring options on how to deliver some of its programs by live streaming events, creating school holiday kits, providing online resources and exhibitions as well as using internet technologies such as Zoom to facilitate meetings that would otherwise need to be cancelled or postponed.
Residents can access up-to-date information on Council's programs and services at https://www.scenicrim.qld.gov.au/covid-19