SCENIC RIM REGIONAL COUNCIL ANNOUNCES ECONOMIC STIMULUS PACKAGE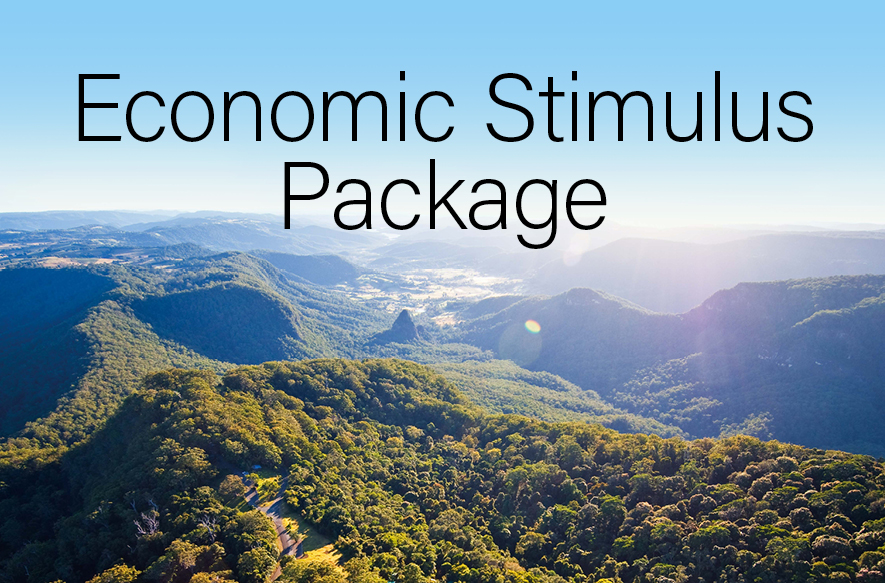 Council has approved an economic stimulus package to minimise the impact on the Scenic Rim's economy at a Special Council Meeting held today.
Chair of Local Disaster Management Group and Mayor Greg Christensen said the package is in response to the COVID-19 pandemic and complements the stimulus packages already announced by the Australian and Queensland governments.
"The primary goal of this package is to support our communities, as well as local businesses to manage short-term cash flow and help keep people employed to minimise the long-term impact to the economy.
"There is almost 4,500 businesses within the Scenic Rim, and more than 90 per cent of these are small businesses, supporting our economy and providing jobs for local people.
"This package provides a foundation for the region's recovery and will be the first of several initiatives that Council will need to offer local businesses, given current estimates suggest that recovery is further than six months.
"Council officers are investigating additional initiatives as a priority and will present them to the new Council for future consideration," he said.
The Scenic Rim Economic Stimulus Package: COVID-19 is approved until 30 June 2020 and consists of the following initiatives, which will be reviewed by the new Scenic Rim Regional Council.
SCENIC RIM ECONOMIC STIMULUS PACKAGE: COVID 19
Adapting rates policy
Council will suspend the application of interest for all ratepayers with outstanding rates and charges for the period of 1 March to 30 June 2020.
Council is suspending ongoing debt recovery action in relation to overdue rates.
Prioritising payment of invoices for local businesses
Council will expedite payment of all certified invoices from local suppliers within seven days, once received by Council, to support local businesses' cash flow (current terms are 30 days).
Prioritising procurement with Scenic Rim-based businesses
Council will ensure all requests for quotes, where appropriate, includes at least two local businesses to increase the amount of local spend.
Refunding of fees and charges
Council will refund booking fees paid for cancelled events in any Scenic Rim Regional Council owned and operated venues.
Providing rent relief
Council will provide rent relief for tenants of Council-owned commercial properties that require support on a case-by-case basis.
Modifying planning and development
Council will suspend the recovery of infrastructure charges.
Council will temporarily provide flexibility outside of some development conditions (where health and safety is not affected).
Supporting Scenic Rim businesses
Council's dedicated Regional Prosperity team will continue to provide assistance to the business community by responding to their emerging needs and assisting them to access the Australian and Queensland Government support available.
Council will assist businesses in accessing external independent mentors for tailored financial mentoring and business planning support.
Council will assist businesses to access external independent counselling service for those business owners and operators in need of support.
Council will work with the region's agri- and food producers to develop a 'Scenic Rim Providore' sales, logistics and delivery solution to open up growth opportunities.
Council will share information regarding new and existing services being offered, eg, restaurants now offering takeaway on Council website and social media platforms.
Council will run a Go Local .. and Grow Local campaign in conjunction with local Chambers of Commerce across the region.
Council will maintain previously allocated events sponsorship funding for events that have been postponed.
Supporting community and culture
Council will move forward to assess applications submitted under Round 2 of Council's Community Grants, with a view to providing more flexibility under the grant guidelines.
Council's Community Development team will continue to provide support to community groups and organisations.
"This is a preliminary package and the situation will continue to change over coming days, weeks and months.
"Council will continue to listen to the needs of the Scenic Rim community and respond.
"This will include advocacy to other levels of government," he said.
While Council is currently in caretaker period due to the upcoming Queensland Local Government elections, the Department of Local Government was consulted as to whether the approval of the Scenic Rim Economic Stimulus Package: COVID-19 was considered a major policy decision - advice received was that it wasn't and is therefore not prohibited during this time.
Council has delegated authority to the Chief Executive Officer to undertake any actions required to give effect to the Scenic Rim Economic Stimulus Package: COVID-19.