Press Release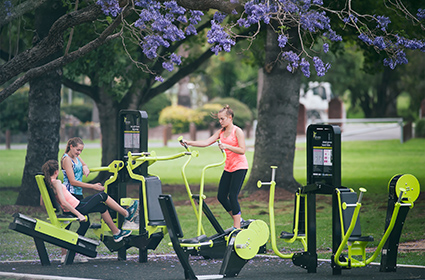 6 July: Scenic Rim residents of all ages and abilities will benefit from Council's ongoing investment in its popular Be Healthy and Active Program.
Scenic Rim residents of all ages and abilities will benefit from Council's ongoing investment in its popular Be Healthy and Active Program.
Council's 2020-21 Budget provides $90,000 for Be Healthy and Active, confirming its commitment to a healthier and more active Scenic Rim. Last year Council extended the program to 12 months, which included 65 health and wellbeing activities delivered by 42 Scenic Rim businesses and community organisations in 17 towns and villages across the region.
Mayor Greg Christensen said the Be Healthy and Active Program's benefits extended beyond individual physical health and wellbeing to stronger social interaction and community connection.
"The COVID-19 situation has highlighted the need we all have for community connection, and I appreciate the efforts of the Be Healthy and Active providers who, in recent months, continued to deliver their programs online where possible," he said.
"Participation in group fitness programs and activities has been shown to have mental health benefits and programs such as Be Healthy and Active contribute to all-round community wellbeing.
"This supports our shared Community Plan vision for the region in nurturing healthy, engaged and resourceful communities."
Since its inception as a six-month program in 2014, Be Healthy and Active has helped Scenic Rim residents overcome barriers to participation in health and wellbeing programs by providing free or low-cost activities for all ages and abilities.
The program has grown to include an outdoor Bush Kindy for pre-schoolers to indoor activities for seniors.
The 12-month program now includes adapted sports such as walking netball and pickleball, which combines tennis and badminton, as well as outdoor sporting and recreational activities, indoor pastimes, information sessions such as health and nutrition seminars and meditation.
Queensland Government funding through the Age-Friendly Community Grants Program in 2019 enabled 746 participants from towns including Kalbar, Harrisville, Mount Alford, Rathdowney, Tamborine, Kooralbyn and Beechmont to participate in a range of health and wellbeing activities suitable for an ageing population.
Community groups such as U3A Beaudesert, which have joined the Be Healthy and Active line-up, have trebled their participation rates in some of the activities they provide to the community.
"It is not only the participants who have enjoyed the social connections and friendships they have formed through Be Healthy and Active - this program is an opportunity for our local health and wellbeing providers and community organisations to raise their profile, all while helping to create a healthier and connected community," Cr Christensen said.