Press Release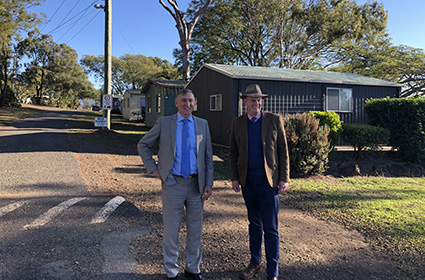 21 July: Scenic Rim Regional Council welcomes the approval its projects submitted under the Queensland Government's COVID Works for Queensland Program.
Scenic Rim Regional Council welcomes the approval of its projects submitted under the Queensland Government's COVID Works for Queensland Program.
Mayor Greg Christensen said the news follows Minister Stirling Hinchliffe's visit to the region in late June where he was able to discuss some of the initiatives put forward by Council.
"We submitted a range of projects, and appreciate the Minister coming out to chat with us and conduct some site visits to learn more about what we had proposed," Cr Christensen said.
"We are very grateful to be included in the Works for Queensland funding for the first time.
"Even though we are a regional Council, because we are located in South East Queensland, we have never been eligible to access the Queensland Government's Works for Queensland program.
"Through this particular COVID-19 program, the Scenic Rim region was allocated $1.73 million, out of the $50 million provided to South East Queensland Councils out of a total $200 million state-wide package.
"It's always great news to hear the projects have been approved so that we can start work once all the paperwork is completed."
Mr Hinchliffe said the COVID Works for Queensland program was an essential part of Queensland's road to economic recovery.
"The economic repercussions from the pandemic have echoed across the world – Queensland is not immune, nor is the Scenic Rim region," he said.
"It was terrific to catch up with Greg and talk about the projects he had his sights set on, including the Lake Moogerah Caravan Park electrical infrastructure and the Tiny Tots playgrounds.
"Most importantly, however, is that these projects will support or create almost 140 jobs."
Mayor Greg Christensen said the funding was welcome injection given the region's economy has been hard hit over the past year following sequential events.
"In addition to COVID-19, our region has been hit hard by long-term drought and two significant bushfires and the funding for these projects will minimise the impact on ratepayer funds," Cr Christensen said.
"The range of projects will provide some additional community infrastructure, maintenance or upgrade of facilities and essential services that Council would not have been otherwise able to deliver this year."
The approved projects under the Queensland Government's COVID Works for Queensland Program includes:
Community wellbeing
All Council libraries: Supply and install radio frequency identification (RFID) control system for Council libraries, which will include tagging all books and installing exit control security gates, and providing self-service kiosks. This will improve customer experience, reduce losses and remove multiple handling of books. Library staff will also be freed up to engage with customers and deliver community programs.
Kooralbyn Community Centre: Paint interior and exterior.
Moriarty Park Community Centre, Canungra: Install solar tubing and safety handrail.
Tiny Tots playground, Boonah and Tamborine Memorial Park. Construct replacement playgrounds as identified in Council's Playground Strategy.
Tamborine Village Old School: Replace roof.
Fassifern Reserve pioneer gravesites, Kalbar: Restore deteriorated graves of pioneering families.
Fassifern Reserve road side rest area and free camping facility: Install bollards to control access to permitted areas only and prevent damage to vegetation.
DJ Smith Memorial Park, Canungra: Restore the depth of electricity lines and other services to enable future installation of turf irrigation.
Essential services
Central landfill: Install CCTV and new lighting to enhance security, monitor waste separation and comply with current standards. Upgrade of entry system. Construct litter control infrastructure on tip face to assist with control of windblown litter.
Tamborine Mountain transfer station: Construct retaining wall to prevent further erosion of pad under water tanks.
Canungra transfer station: Repair of push bay structure, including reinforced concrete on walls and bund.
Economic development
Replace and refurbish electrical infrastructure as required throughout the Lake Moogerah Caravan Park. An electrical safety audit identified aging infrastructure and sections of the electrical reticulation was not compliant with current standards.
"Council is grateful for the funding from the Queensland Government, in particular the support from Minister Hinchliffe, which will enable us to progress projects that will enhance the liveability of our communities, support jobs and drive positive economic outcomes for our region," Cr Christensen said.