Press Release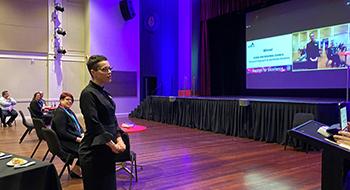 28 August: Scenic Rim Regional Council took home the Teamwork Award at the Local Government Managers Australia Queensland 2020 Awards for Excellence at the yesterday.
Scenic Rim Regional Council took home the Teamwork Award at the Local Government Managers Australia Queensland 2020 Awards for Excellence at the yesterday.
Council's response to COVID-19 was recognised at the state-wide virtual ceremony, which recognised outstanding achievements from Queensland local governments across a variety of categories.
Scenic Rim Mayor Greg Christensen said the award win was a testament to the flexibility and agility of employees and the leadership team through the unprecedented and ongoing event.
"Council responded immediately to the pandemic. Under strong leadership from the executive team, a dedicated steering committee acted swiftly to identify the risks associated with an unknown global pandemic to ensure Council's ongoing delivery of services to the community," Cr Christensen said.
Chief Executive, Jon Gibbons said teamwork and collaboration at all levels has been key to Council's ability to adapt to the everchanging landscape in response to COVID-19.
"Our risk management approach, including working as a team to identify and address potential risks to our people, our community and our service delivery was key to success in this time," said Mr Gibbons.
"With all our public programs cancelled, we needed to put our heads together and think differently about how we delivered our services to the community and it became clear how agile and creative our teams were within the organisation.
"After quick planning and delivery, many cultural workshops, exhibitions, library events, Be Healthy & Active exercise sessions and school holiday programs were made available online.
"Our teams also fast-tracked developing new procedures to pivot our office-based workforce to a work-from-home arrangement, while supporting those whose roles could not be performed at home.
"In responding to the pandemic, it enabled us to look inwardly together and improve many of our business processes and employee and workplace flexibility, while still delivering for our community.
"Both internal and external communication using a variety of channels was critical to keeping everyone informed of the constant changes to our facilities and operations.
"Teams also worked together to establish initiatives for our Economic Stimulus Package to support our community members impacted by COVID-19.
"While COVID-19 is still a very real threat, it's encouraging for me to see that out of adversity comes opportunity and it's clear as a result of this strong teamwork, we have made some positive changes.
"I recognise we were up against many worthy contenders for this award, and I congratulate them all on their own outstanding teamwork."
Scenic Rim Regional Council entered five award categories and was proudly announced as a finalist in two other categories at the ceremony.
The first was in the category of Sustainability for the work Council undertook in conjunction with Belong and 11 trainees to build capability in response to bushfire recovery. The trainees assisted in restoring vegetation at the Binna Burra Lodge campground to support the return of native flora and fauna following the devastating bushfires by planting more than 3,000 native trees, shrubs and grasses from Council's One Million Trees program. When they completed the work, the trainees received a Certificate I qualification in Conservation and Land Management program. The project was a collaboration with Belong, Department of Education, Binna Burra Lodge, and Queensland Parks and Wildlife Service.
Council was also a finalist in the Collaboration category for the role it played with many local producers to support the establishment of the Scenic Rim Farm Box concept following the cancellation of Eat Local Week, and as part of its Economic Stimulus Package in response to COVID-19.
Ends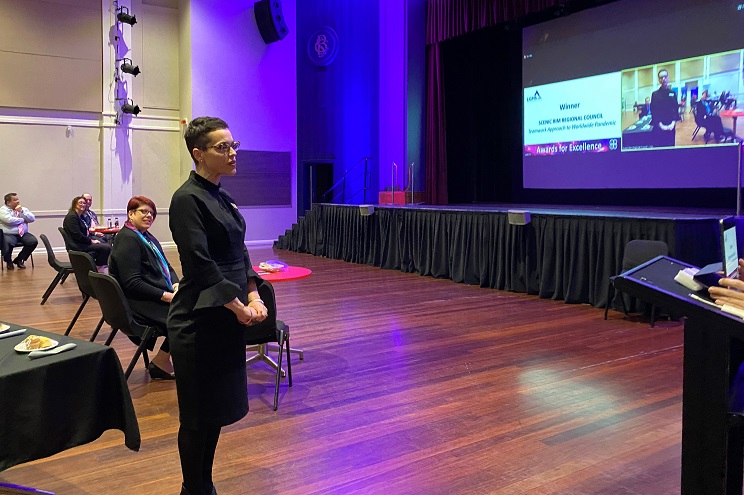 Pictured: General Manager People and Strategy, Caroline McMahon, accepted the award on behalf of Council at the virtual ceremony.