SCENIC RIM TO PURSUE ECO DESTINATION CERTIFICATION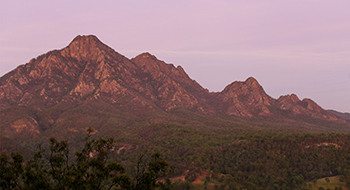 Scenic Rim is one of only six councils in Australia to be selected for potential ECO Destination Certification as part of a program to boost tourism in bushfire-affected regions.
At its Ordinary Meeting yesterday, Council endorsed a partnership with Ecotourism Australia, which is working with the World Wide Fund for Nature-Australia to assist regions in their bushfire recovery and offering $30,000 in funding for the Scenic Rim to support a two-year process to obtain ECO Destination Certification.
Mayor Greg Christensen said the offer represented a tremendous opportunity for the region and aligned with the Scenic Rim Tourism Strategy 2017-2021 and the Scenic Rim Regional Prosperity Strategy 2020-2025.
"By becoming a Certified ECO Destination, the Scenic Rim will join an established global network of like-minded destinations striving for ecotourism excellence," he said.
"ECO Destination Certification has previously been identified as a goal for the Scenic Rim and would enhance our region's tourism offering and credentials, broadening our appeal to the visitors we wish to attract - those who value sustainability and minimal impacts on the natural environment.
"Increasingly, these types of visitors are demanding authentic, unique and environmentally sustainable experiences, which can best be described as 'ecotourism' quality."
The Scenic Rim region's six national parks make it a haven for bushwalkers, naturalists, birdwatchers and those who appreciate spectacular views. Several Scenic Rim-based tourism operators are already ecotourism certified, including Innes Larkin from Mount Barney Lodge, who is Deputy Chair of Ecotourism Australia.
Leading the way, Port Douglas Daintree achieved the world's first ECO Destination Certification in December 2019. Now more than 14 other regions across Australia, New Zealand and the South Pacific are part of the program - including Scenic Rim.
"ECO Destination Certification is about much more than the tourism sector - it has the potential to embed real, tangible environmental, social and economic sustainability practices within a community's recovery and, in this case, to drive bushfire and now COVID recovery," Cr Christensen said.
"Tourism should not simply extract value it must become a revitalising force that pays its way, protects and enriches the people and places on which it depends and enables them to thrive over the longer term."
The offer of support from Ecotourism Australia and the World Wide Fund for Nature-Australia is gratefully accepted and Council looks forward to working in partnership with them and our local tourism operators towards the certification for Scenic Rim, the Richest Place on Earth in Australia.
"Tourism is one of the Scenic Rim's most important industry sectors, bringing in more than $315 million in visitor expenditure each year, contributing more than $200 million to the region's Gross Regional Product of $1.9 billion and accounting for more than 2,000 of the region's 15,500 jobs," Cr Christensen said.
"I am looking forward to the increased opportunities ECO Destination Certification will generate for our region as we continue our journey of bushfire recovery."