Community input sought for the Tamborine Mountain Gallery Walk Precinct Business Case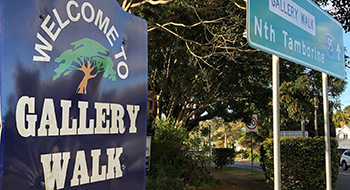 Scenic Rim Regional Council has today launched its 'Have Your Say' campaign to support the Tamborine Mountain Gallery Walk Precinct Business Case.
This planning project is proudly funded by the Queensland Government in association with Scenic Rim Regional Council and will deliver a concept design and a business case.
Scenic Rim Mayor Greg Christensen said this planning project will support Council to advocate for specific upgrades for Tamborine Mountain Gallery Walk Precinct.
"Gallery Walk is an important regional visitor destination and Council needs a costed business case to apply for grant funding from all tiers of government before it can move on to detailed designs and begin construction," he said.
"Council is grateful to the Queensland Government for its support of this critical stepping-stone.
"We acknowledge there will be consultation fatigue in relation to the Gallery Walk Precinct because in the past 20 years there have been several projects that asked for input from the Tamborine Mountain community.
"Without external funding those projects weren't able to progress, that is the point of difference for this planning project, the inclusion of a costed business case.
"The clear message previously was that more parking was needed to address congestion and safety concerns for this popular pedestrian shopping and hospitality precinct that boasts more than 70 speciality shops in one block.
"Before the concept designs are drafted, we need up-to-date input from the local community, visitors, and businesses and landlords to help the project team evaluate the best options for pedestrian and traffic accessibility, including on and off-street customer carparking and visitor coach and visitors' vehicle parking.
"Community feedback will also shape concept designs in regards to public amenities and the streetscape, including shade, informative signage, and opportunities for alfresco dining.
"The concept designs will involve continued consultation with the Department of Transport and Main Roads because Gallery Walk Precinct is located on Tamborine Mountain's Long Road, which is a State controlled road.
"The geometry of Long Road means there are complexities in regards to drainage requirements and public utility infrastructure.
"Input from an online and printed survey to the community, a Listening Post event in the Precinct on Saturday 21 August, and facilitated stakeholder meetings will be used to inform the concept designs, which will be released publicly in October.
"Those concept designs will then be available for further community feedback and another round of 'Have Your Say' opportunities.
"Council will decide on the final concept design by December to support the finalisation of a costed business case in early 2022."
The online survey opens today and printed postcard surveys are being distributed to Tamborine Mountain households.
Printed surveys are also available at the Tamborine Mountain Library and Tamborine Mountain Visitor Information Centre.
On Saturday 21 August between 9am and 1pm, locals and visitors will be able to share their ideas in person at a Listening Post at Rhoda Rushbrook Park on the corner Long and Eagle Heights Roads, Tamborine Mountain and also pick up a copy of the printed survey.
The survey closes on Sunday 5 September 2021.
More detailed information about this planning project and the online survey is available at www.scenicrim.qld.gov.au/say/tamborine-mountain-gallery-walk-precinct
Events and meetings will be managed in line with Queensland Health directives on public gatherings.
The Tamborine Mountain Gallery Walk Pedestrian Boulevard Business Case is proudly funded by the Queensland Government in association with Scenic Rim Regional Council.