Head Road, Carneys Creek remains closed for public safety, works delayed due to ongoing wet weather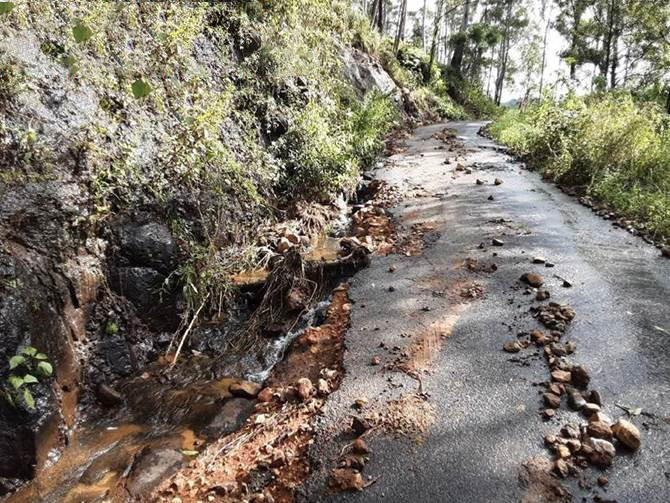 Head Road at Carney's Creek
Head Road at Carneys Creek will remain closed after sustaining further damage as a result of repetitive and more widespread wet weather and flooding than from earlier this year.
Council has engaged a contractor to undertake a series of important works to replace approximately 200 metres of guard rail originally damaged by bushfires in 2019 at Head Road near Brett Road at Carneys Creek, which were anticipated to start at the end of May, 2022.
Recent wet weather and flooding has caused additional damage to the previously damaged site and to further sections of Head Road, resulting in the closure of the road.
Division 5 Councillor Marshall Chalk said the impact of repeated wet weather events have hindered the ability to fix Head Road, with the recent weather event causing further damage and that a continued road closure is required to ensure the safety of the travelling public.
"The current assessment of Head Road has indicated that previously planned works can start in the coming month. There has been an increase in the volume of landslips and to the length of damage, and the road will remain closed until all associated rectification works are completed," he said.
"These works are on a very windy and steep section of Head Road near the boundary of the Scenic Rim and Southern Downs and the stabilisation of the rock slope is a risky job that will take time to safely carry out.
"I know these works to reinstate the Council-owned Head Road will be greatly appreciated as it provides an important link to our neighbouring region to the west and south."
Scenic Rim Mayor Greg Christensen said while the important works on Head Road are gearing up to start, an alternate route will ensure travel to the area is still made possible.
"In light of more recent and substantial damage, our crews have undertaken further assessment of the site. We are re-establishing contractors to assist our crews with on-the-ground delivery of these works, which are mostly co-funded by the Australian and Queensland governments through Disaster Recovery Funding Arrangements," he said.
"Head Road will remain closed while works occur with an alternate route available through the Cunningham Highway or White Swamp Road, noting the White Swamp Road contains unsealed sections.
"The works on Head Road are just one of a large number of works across our road network that our crews are responding to as efficiently as possible to make them safe for our residents and visitors, and travellers to the region.
"I thank the community for their patience and understanding as these important works are carried out to return Head Road to its pre-event condition."
For more information on the Head Road project, visit Council's website.
ENDS