Community helps shape planning for Mountain's popular precinct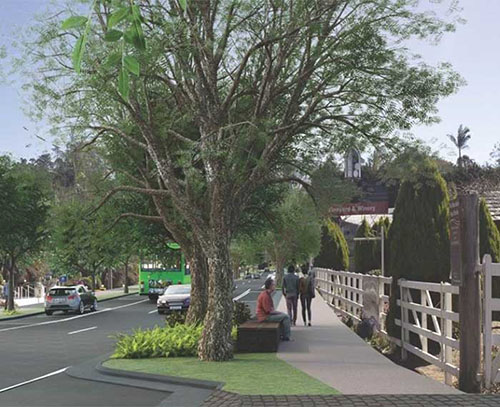 Feedback from the Scenic Rim community has helped to finalise concept designs for a range of improvements proposed for Tamborine Mountain's popular Gallery Walk precinct.
Scenic Rim Regional Council's final round of community engagement for the development of a business case for a pedestrian boulevard at Gallery Walk focused on designs for a car park to alleviate current traffic issues and improve pedestrian safety.
Concluding in October 2022, the community consultation received a total of 75 responses following more than 1,500 visits to Council's Let's Talk Scenic Rim website, the downloading of more than 700 concept design documents and 49 visits to Council's Open House session where residents could view the concept designs in person and talk to members of the design team.
Scenic Rim Mayor Greg Christensen said the final round of community consultation had posed two key questions.
"We asked the community what elements of the concept designs they liked and what changes they would like to see or suggest how to improve the concept designs," he said.
"The responses told us that an off-street car park was positively received, along with improvements to the safety and amenities of the Gallery Walk precinct, including more landscaping, shade, seating, artistic elements, and improved footpaths, pedestrian crossings and parking.
"We believe that the final concept design which has been settled on, with the help from our community, will provide greater convenience to motorists, residents and visitors to Tamborine Mountain."
Key components of the final concept design, which have been shaped by community feedback, are the:
off-street car park entry and exit, which will include a median island to separate incoming and outgoing traffic to provide enhanced safety for pedestrians and motorists
relocation of a pedestrian crossing in the middle of Gallery Walk, from the southern to the northern side of the car park, also improving pedestrian safety
construction of a fence around the car park in the first stages of construction, to increase privacy, reduce noise impacts to residents, and the potential for trespassing
inclusion of space within the footprint of the off-street car park to provide for gatherings and pop-up exhibitions by local artists and craftspeople, and
management of overland water flows within the proposed car park, as well as the consideration of water re-use within the existing landscaping and public amenities facilities.
Mayor Christensen said the need to preserve the beauty of Gallery Walk had been highlighted in previous feedback received by Council.
"We know that our community places great significance and pride, particularly in this area of Tamborine Mountain, and it's great to see the level of interest and feedback in this last round of consultation which has influenced the final concept design plans for the Gallery Walk precinct," he said.
In 2020, Council was allocated $150,100 under the Queensland Government's Building our Regions program to develop its Tamborine Mountain Gallery Walk Pedestrian Boulevard Business Case and Council is also contributing $75,100 towards the project.
Follow the next stage of this project by signing up to the Let's Talk Scenic Rim community engagement platform to receive updates, as well as updates on other projects happening across the region.
The Tamborine Mountain Gallery Walk Pedestrian Boulevard Business Case is proudly funded by the Queensland Government's Building our Regions program in association with Scenic Rim Regional Council.