Cr Duncan McInnes OAM - Ten Years of Service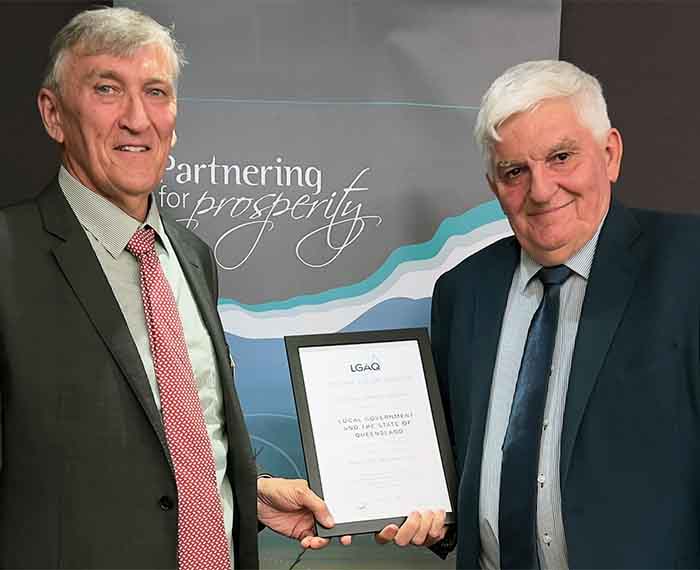 Attached image: Scenic Rim Mayor Greg Christensen (left) presents Cr Duncan McInnes OAM with the certificate recognising his 10 years of service.
It is standard practice for the Local Government Association of Queensland (LGAQ) to recognise length of service milestones for elected members at their Annual Conference.
Division 6 Councillor Duncan McInnes OAM achieved the 10-year service milestone during 2022 however, due to an administrative glitch, was not afforded such recognition at the conference.
The Association sent Councillor McInnes's 10-year service certificate to Scenic Rim Regional Council, and Mayor Greg Christensen presented Councillor McInnes with his certificate at today's ordinary Council meeting.
Recognition of Councillor McInnes' service was met with acclamation from the Councillors, Officers and members of the Gallery after the presentation of his certificate.
Cr Duncan McInnes OAM was first elected to Scenic Rim Regional Council in 2012 and was re-elected unopposed in 2020. He was elected Deputy Mayor in May 2019 and again in April 2020.
He has spent more than 30 years within the wider dairying community, having served as a director at local, state and national levels and has represented his industry internationally. He is also a Commissioner of Declarations.
In January 2020 he was awarded an Order of Australia Medal for his service to the community and the dairy industry.
For more information: Division 6 Cr Duncan McInnes – Scenic Rim Regional Council