Waste and Bin Collection
Knowing how to use your kerbside collection bins means that your rubbish is disposed of safely, easily and with limited impact on the environment.
Following the Dos and Don'ts below helps Council to provide a safe and efficient service. Within the waste collection area Council provides a dual bin system with general waste serviced weekly and recycling bins serviced fortnightly. Bin collection occurs on all weekdays including public holidays.
For more information on recycling using your kerbside bin or through other channels visit Recycle Right!
Please note bins must be placed out prior to 6am on the day of collection. If you have any further questions, feel free to call Council on 5540 5111.
Waste reports and requests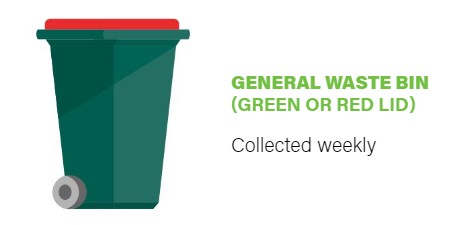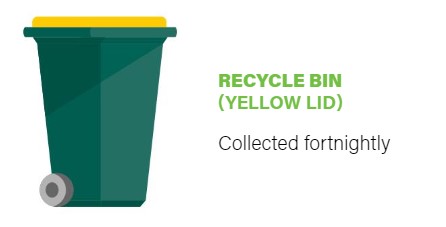 Council's Waste Collection Guide will help you find your General Waste and Recycling weeks. A Waste and Recycling Collection Calendar is on Page 2 of the guide.
Download Waste Collection Calendar
A list of Waste and Resource Recovery Facilites and accepted waste materials are also included in the guide. For more information, please contact Customer Service on 07 5540 5111.
Dos and don'ts of kerbside bins
Do the right thing, use the right bin

The general waste bin is for household waste that can't be reused or recycled. Up to 20% of waste in general waste bins could go in the recycling bin.

Place bins

Place bins within 1.5m of the road edge, at least 50cm apart. Ensure bins are clear of parked vehicles, trees, driveways, footpaths, and other obstructions.

To bag or not to bag?

Lightweight wastes in your general bin should be bagged to stop them blowing around. Don't put recycling in plastic bags - this can't be recycled and can jam the truck.

Don't overfill your bins

Bin lids must be fully closed. Overfull or overweight bins will not be emptied - they cannot be safely lifted and can damage the collection truck.
Don't bin it
Please do not put these items in your kerbside collection bins:
| | | | Instead: |
| --- | --- | --- | --- |
| | Items longer than 50cm | | Break them up or take to Waste and Resource Recovery Facilities |
| | Green waste, including garden trimmings and tree stumps | | Take to Waste and Resource Recovery Facilities |
| | Construction and demolition waste | | Take to Waste and Resource Recovery Facilities |
| | Scrap metal | | Take to Waste and Resource Recovery Facilities |
| | Hazardous materials - batteries, chemicals, explosives etc | | Take to Waste and Resource Recovery Facilities or specialist service |
If you are still unsure whether something can be disposed of in your kerbside collection, call Council on 5540 5111.