Press Release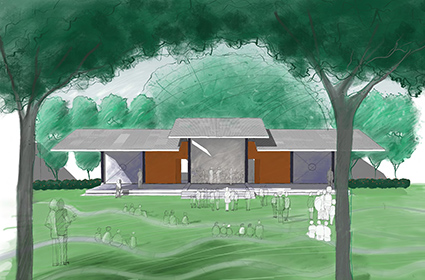 27 May: An $8.4 million project that will revitalise Beaudesert's Town Centre and enable planning for an upgrade to Tamborine Mountain's Gallery Walk has the green light.
An $8.4 million project that will revitalise Beaudesert's Town Centre and enable planning for an upgrade to Tamborine Mountain's Gallery Walk has the green light following the announcement of $3.75 million in funding from the Queensland Government's Building our Regions (BoR) program.
Scenic Rim Mayor Greg Christensen said it was a huge win for the region and thanked the Queensland Government for their support.
"The Building our Regions program has been critical in enabling essential infrastructure to be built and supports Council's Vibrant Towns and Villages initiative within the Scenic Rim," Mayor Christensen said.
"Small regional Councils like ours don't have the same deep pockets as some of our neighbours, and so it's important that we apply for these grants to help provide our communities with vibrant and dynamic parks, open spaces and community infrastructure, while limiting costs for our ratepayers.
"Applying for the grants is a competitive process and we are so grateful for the funding knowing how much these projects help stimulate economic growth and community vitality.
"With our region having been hit hard economically by drought, bushfires and now COVID-19, the opportunity to revitalise Beaudesert's Town Centre and start planning to upgrade Gallery Walk is very welcome.
"The heart of Beaudesert will be transformed into an engaging celebration of commerce, heritage and culture.
"Our residents will be able to enjoy landscaped street scapes, upgraded parklands, open space events in an outdoor amphitheatre, and a new playground.
"Traffic will be better managed with off street town centre car parking and parking for caravans and trailers, and stormwater and flood mitigation works will be undertaken," Cr Christensen said.
The community was invited to view concepts of the revitalised town centre in December last year.
Minister Kate Jones said the government was proud to be partnering with councils and the private sector to deliver projects that create jobs.
"We are facing one of the most difficult times in our State's history. But we know that to fast-track Queensland's economic recovery, we need to invest in job-creating projects in regional Queensland," she said.
"This program will not only create hundreds of construction jobs across the regions, it will create more employment opportunities for locals, helping small businesses in these communities and boosting industry supply chains."
BoR Round 5 focuses on construction and planning projects that will create and sustain long-term employment in regional Queensland.
Under previous BoR funding rounds almost $295 million has been allocated to 223 projects across 66 local government areas in regional Queensland.
This work has supported more than 2,400 jobs and attracted additional investment of $487 million from councils and other organisations.
The $150,100 received for the Tamborine Mountain Gallery Walk Pedestrian Boulevard project will fund the project's business case to provide options for the Tamborine Mountain precinct to be evaluated.
"Usually bustling with visitors, Tamborine Mountain has been hard hit by the impacts from COVID-19, and all the businesses are looking forward to welcoming overnight visitors back again.
"The business case will focus on creating a vibrant retail boulevard with transformed streetscaping in line with the natural beauty of the rainforests and village character.
"The charm of Tamborine Mountain is what makes it a unique place to live and why our visitors love to return, and we can't wait to see what options come back through this phase," Cr Christensen said.
Council is expected to contribute $75,100 to help finalise the business case, which will also look at redeveloping the area's pedestrian and traffic accessibility, public amenities and on-road and off-road car parking.
ENDS