Mental health and well-being support for Scenic Rim businesses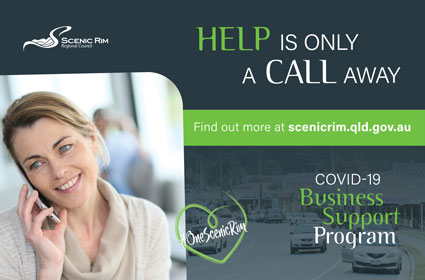 Eligible Scenic Rim businesses and employees impacted by the COVID-19 pandemic will be supported by Council through a series of free of charge counselling sessions with experienced independent professionals, Capacity Consulting, 'Lavender House'.
Scenic Rim Mayor Greg Christensen said the COVID-19 pandemic and the associated restrictions on businesses had added unique and potentially overwhelming stress and strain to the business sector and their employees, which was already facing increasingly complex challenges following drought and bushfires.
"We realise that many businesses and their employees in our region have been suffering immense pressures in recent months due to the pandemic, and it is important they have access to professional help.
"Some people have watched their businesses, which are often their life's dream, deteriorate during this time, and while the financial stress is incomprehensible, the impacts to people's mental health is often overlooked," Cr Christensen said.
"There are also the people who have just been trying to get through each day, and it's not until later on that they have a delayed emotional response.
"It's incredibly important for our local businesses to know they can speak confidentially to an independent professional counsellor, and help get some strategies to work through this, without worrying about the costs.
"If you know someone in the Scenic Rim business community who has suffered as a result of COVID-19, please encourage them to use this service and to ask for help," he said.
The Business Support Program is being made available as part of Council's Economic Stimulus Package: COVID-19, which was announced in late March, and aims to assist business owners and their employees who have suffered as a result of COVID-19 restrictions.
Support under the Business Support Program will provide access to up to three confidential counselling sessions for owners of an eligible business located within the Scenic Rim Regional Council geographical boundary and any employee of an eligible business.
To be eligible for assistance under the program, the business must have its head office or principal location within the Scenic Rim local government area and have been significantly impacted by COVID-19. This applies to businesses which have been required to cease usual trading operations in line with social distancing directives, such as tourism and hospitality and/or experienced a reduction of at least a 30 per cent in turnover by comparison with the equivalent month in the previous year, as per eligibility for the JobKeeper initiative.
More information is available on Council's website www.scenicrim.qld.gov.au/businesses/business-counselling-support/1 or impacted businesses can call Capacity Consulting, 'Lavender House' 5541 4411, who have be contracted to provide this independent confidential service.