Bush fire recovery works to close Head Road, Carneys Creek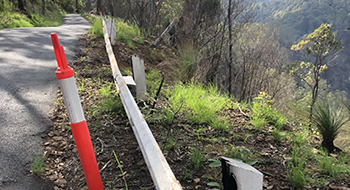 Residents and visitors travelling between the Scenic Rim and the Southern Downs via Head Road at Carneys Creek will need to make alternate travel arrangements for four months while a section is closed for essential guard rail repairs.
Council has received funding from the Queensland and Australian Governments through the Disaster Recovery Funding Arrangements (DRFA) to replace approximately 200 metres of guard rail on a very windy and steep section of Head Road, near Brett's Road at Carneys Creek.
The works, which are set to begin on 23 August 2021, are necessary as the aged timber posts supporting the guard rails on this section of Head Road were burnt by bush fires.
Geotechnical surveys indicated the foundation beneath the guard rail posts require stabilising, meaning the highly weathered rock slope will be excavated and rebuilt, and a section of the road cut out to allow the guard rail foundations to be suitably rebuilt. The upgrades will also include improved drainage and hazard signage.
Scenic Rim Mayor Greg Christensen said the road needed to be closed to ensure these vital repair works could be done safely.
"Our council engineers undertook a very thorough and comprehensive investigation looking at whether the road could stay open during these repairs," he said.
"The terrain of the section of the road, the work that needs to be conducted, the timeframe of the project and costs involved meant it wasn't a feasible option to keep it open during construction.
"Closing the road to all traffic for these essential repairs will result in a large detour of 160 kilometres, however Council will work closely with Carneys Creek residents who use this section of road on a regular basis to mitigate the impact as much as possible.
"Unfortunately, the road can't be temporarily opened in the evenings or on weekends without significantly extending the length and cost of the project.
"This route is also frequently used by visitors who access Queen Mary Falls from Boonah, Mount Alford and Rathdowney, so Council will keep in touch with our Visitor Information Centres so they have the latest information for travellers.
"We recognise that the closure will cause some inconvenience for road users, however it's important to get this work completed to provide a safer road network for our communities and visitors."
Prior to the closure, electronic road signs will be installed to notify travellers of the upcoming closure and detours using alternative routes will be in place for the duration of the works.
For those travelling from Boonah, Mt Alford or Rathdowney there will be no-through access via Head Road to Queen Mary Falls, Killarney or Warwick. Queen Mary Falls will still be accessible via Spring Creek Road from Killarney.
Advertisements will be placed in the local newspapers and notifications will be issued to local residents, emergency services, Visitor Information Centres and notices will be placed on Council's Facebook page and website. The Qld Traffic: Road Condition Information website will also be used to issue updates throughout the project.
For more information from Council directly phone 5540 5111 or email mail@scenicrim.qld.gov.au and quote 'Head Road Guard Rail Replacement'.
­For road condition information visit www.qldtraffic.qld.gov.au