Waste Services
How to reduce waste - Your handy guide
Waste Education Program
Council is inviting early childhood, primary and secondary schools to be part of its Waste Education Program to support waste reduction and resource recovery in the community. More info here.
Waste collection times revised from 1 July 2021
A new waste collection contract with J.J. Richards commenced on 1 July 2021 and to cater for the region's growing population waste collection routes and times were revised.
Your general waste and recycle bin collection day will stay the same unless we have notified you of a change.

Your bin collection time may change, it may be earlier or later than previously.
It is important that you put your bins out before 6.00am on collection day.
You will see also new-look waste trucks working around the region. Read more here.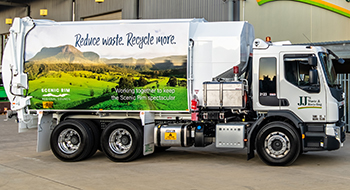 COVID-19 update
Waste services remain open
Council Waste Facilities are open within normal operating days/times. Social distancing measures will be managed by Council staff on site.
How can I avoid or reduce visits to the Waste Transfer Stations during COVID?
Consider what waste you are generating and perhaps delay projects that may generate large volumes of waste. For example do those trees need to be pruned at this point in time?
Support a local business by ordering a waste collection or skip bin service from a commercial service provider.
Consider visiting the waste transfer station during weekdays.
Reuse, recycle or re-purpose waste materials.

Is now the time to learn how to home compost food scraps and garden organics?
Set-up a separate recycling station in your home to better separate items that go in the yellow-lid bin – only paper, cardboard, aluminium, hard plastic and metal.

Postpone your visit to a transfer station until you have a full load of waste.
Make full use of your household waste and recycling bins as Council's kerbside bin collection services are still running.
EFTPOS available at Beaudesert, Canungra, Tamborine Mountain and Boonah Waste Facilities to reduce cash handling during COVID.
Visit the COVID-19 webpage on the Scenic Rim Regional Council website for information on Council's ongoing response to COVID-19.
Council provides a range of waste services for local households and businesses throughout the region, including:
Garbage and recycling collection within serviced areas
Waste disposal sites and facilities
Information on minimising waste and recycling
Garbage Collection
Council provides residents within household collection areas with a 240-litre waste bin (serviced weekly) and a separate 240-litre bin with a yellow lid for recycling (serviced fortnightly).
The recyclable materials are transported to a Materials Recovery Facility for sorting. The recycled materials are sent to various enterprises and are manufactured into new products.
Other Collection Services
Council provides a limited variety of other waste recycling services such as:
Commercial waste services in wheeled and bulk bins
Commerical recycling services in wheeled bins
Street and park bin services
Waste Disposal Facilities
Council operates a network of seven Waste Transfer Stations throughout the region. Residents of the Scenic Rim region can dispose of up to one cubic metre (1m³) of general waste and up to three cubic metres (3m³) of green waste, free of charge. Fees are charged for commercial usage of council's waste disposal facilities. Recyclable items can be placed in designated areas at transfer stations, mostly free of charge. Check out what can be recycled at the Waste Transfer Stations page.
COMMERCIAL DISPOSAL FACT SHEET
Recycling Calendar 2021-2022
If you need help remembering which week your recycling bins should be out for collection, you can download a copy of our Recycling Calendar 2021-2022.
How to use this calendar?
In the Scenic Rim recycling is collected fortnightly. The fortnights are colour coded red or blue, so your recycling bins will be collected on either all the 'Red' weeks or the 'Blue' weeks.
Simply mark on the calendar your usual waste collection day and whether you are a Blue or Red recycle bin week.
And remember, just like the general waste bins, recycling bins need to be kerbside by 6am on your collection day.
If you are not aware of your recycling bin week, please contact Customer Service on 07 5540 5111 for further details.
Download a copy of the Recycling Calendar here
Printed copies were also provided with rates notices in July 2021.