Scenic Rim Business Excellence Awards
Delivered by Scenic Rim Regional Council, the awards seek to highlight your ideals and aspirations while applauding your achievements and endeavours to succeed, whether you are a large, medium or small business.
The Business Excellence Awards Ceremony is a highlight of the business social calendar, bringing together the region's business community to celebrate and share in our successes.
This is a biennial event, with the next Scenic Rim Business Excellence Awards scheduled for 2023.
Nominations and award ceremony to occur first half of 2023-2024 financial year.
For more information, contact Council's Regional Prosperity Team at prosperity@scenicrim.qld.gov.au
The 2021 Scenic Rim Business Excellence Awards Ceremony was held at the Boonah Cultural Centre on 5 November 2021.
2021 Award Winners
Excellence in Tourism and Accommodation: Tamborine Mountain Distillery
Tamborine Mountain Distillery is an award-winning manufacturer of a wide range of boutique liqueurs and spirits. Their artisanal approach and multiple distillations, using an impressive range of natural ingredients and native flora, create smooth and unique flavours.
Excellence in Hospitality - Food and Dining: Scenic Rim Brewery
The Scenic Rim Brewery is an iconic, family-owned craft brewery located in the historic century-old Mount Alford General Store, offering a range of craft beers, delicious menu and quality local products with world-class hospitality.
Excellence in Retail: My Country Escape
Located in Canungra, My Country Escape prides itself on its selection of gorgeous homewares and gifts, from timeless treasures to more unique items, and boasts a range of locally-owned products and labels. Owner Michelle and the team offer the very best in personal, thoughtful, friendly, old-fashioned service.
Excellence in Trades and Construction: Hobbs Building and Interiors
Hobbs Building & Interiors (Hobbs) is an energetic, multi-award-winning custom build firm who live and work to service eco-friendly homeowners within the Scenic Rim. A husband-and-wife team with over 20-years industry experience, they specialise in residential steel frame construction and have a passion for sustainable products and interior design.
Excellence in Transport, Logistics, Manufacturing and Mining: Joint winners
Australian Lawn Concepts and RV Tanks Australia
Established in 2000, Australian Lawn Concepts supply and lay new turf and lawns across South East Queensland and have built an excellent reputation for quality lawns, lawn care products, service and advice. Located in Boyland, they're Australia's largest grower of Zoysia lawns and are committed to finding the right solution for their customers.
RV Tanks Australia manufactures rotomolded, food grade freshwater, greywater and blackwater tanks for caravans, campers, motorhomes, horse floats, 4X4's and any other mobile or stationary vehicle on the market. Their goal is to manufacture top-quality, hard wearing, almost indestructible tanks for every customer.
Excellence in Professional and Community Services: Tamborine Mountain State School P&C Association
The Tamborine Mountain State School P&C is a strong and active organisation that supports their school and wider community by making a positive contribution to local growers, suppliers, families, artists by showcasing their products to the wider south east region. They're especially well-known for their monthly markets which showcase local businesses and bring visitors to the community.
Most Outstanding New Business: e360 Design
e360 Design is a comprehensive interior design studio offering a 100% Australian-made range of original artwork, soft furnishings and furniture. Established by Tamborine Mountain designer Jen Robson in August 2020, the gallery offers an abundant catalogue of homewares, whilst also offering custom services.
Excellence in Business (20+ Staff): Binna Burra Lodge
The iconic Binna Burra Lodge is a stunning eco-retreat in the world-heritage listed Lamington National Park. The world looked on as major bushfires destroyed many of the heritage-listed buildings in the Black Summer bushfires of 2019, but the Lodge has reopened with the refurbishment of the remaining facilities and accommodation, and continues to provide exceptional experiences as a gateway to the national park.
Trainee/Apprentice of the Year: Corrine Cause, Fit Up Fitness
Corrine commenced a Certificate III in Business Administration in June 2020 and completed the 24-month traineeship in just 13 months while balancing her senior schooling and responsibilities as School Captain at Boonah State High School. She is a diligent, driven, critical thinker who is well-deserved to be recognised for the hard work she has put into her schooling and traineeship, while navigating through the challenging times of COVID-19, and her top-quality customer service efforts in her job at Fit Up Fitness.
The judges commented that, "Corrine is an all-star who is a credit to herself, her workplace, school and family. As she finds her pathway after school, Corrine will no doubt continue to make a success of life and all its opportunities".
Excellence in Agriculture Award: The Lime Caviar Company
The Lime Caviar Company is the world's only producer of lime caviar, quick frozen finger lime pearls. An award-winning product, that is viewed by many top chefs as an amazing Australian native food product and a superfood, it is becoming renowned for its uniqueness, its myriad uses and its fresh-like flavours and colours.
Regional Prosperity Award: The Lime Caviar Company
In making their decision the judges commented that, "The Lime Caviar Company is a true entrepreneurial business led by Ian and Margie Douglas with an excellent brand narrative that not only showcases the product but the character of the Scenic Rim region. Their exciting plans for expansion are set to benefit the entire region and finger lime industry and they are to be congratulated for their success.
Judges also noted that, "The Lime Caviar Company has successfully marketed the product on their own and their export success is to be applauded, benefiting small growers all over Australia. Their approach to no waste in processes also demonstrates good sustainable practices. This is a business that the Scenic Rim can be very proud of."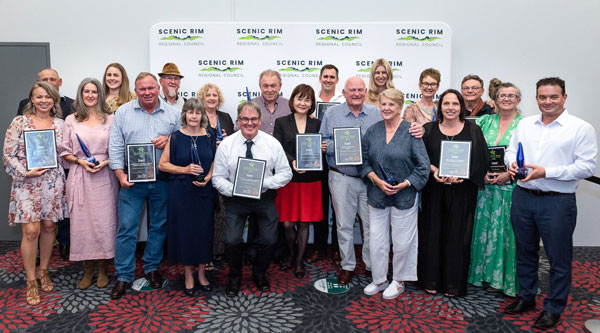 View the media release
View the image gallery