Press Release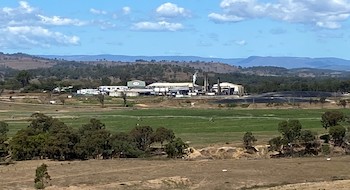 2 October: Beaudesert Chamber of Commerce President David Kassulke is getting behind Council's 10 Point Plan in an effort to stimulate growth in the Bromelton State Development Area (SDA).
Local businessman and Beaudesert Chamber of Commerce President David Kassulke is getting behind Council's 10 Point Plan in an effort to stimulate growth in the Bromelton State Development Area (SDA).
Recognising that efficient road infrastructure is key to the Bromelton SDA reaching its potential, Mr Kassulke from AJ Bush and Sons said his big question for the next Queensland Government is when will the Woodhill heavy vehicle road to Bromelton SDA be completed?
"As part of the Bromelton SDA there is a planned direct road link from Woodhill to the Bromelton SDA travelling south along what is known as 'Todd's Lane' after Bromelton's early settlers, the Todd family," he said.
"Once complete, you will witness a large decline in the number of heavy vehicles travelling south through Veresdale, Gleneagle and in to the north of Beaudesert.
"What we are not seeing is commitment to that bypass, even though it has long been a Queensland Government ambition to witness industrial development at the Bromelton SDA.
"The idea was first raised in 1987, a distant 33 years ago, to have an area that is specially designated for high impact, and difficult to locate, industry that is well buffered from residential development.
"There are government funds to be spent on job enhancing infrastructure, and I think it is a good strategy for the Scenic Rim Regional Council to keep both the Queensland and Australian governments aware of local needs and priorities."
Scenic Rim Mayor Greg Christensen said Council's 10 Point Plan was asking for a future Queensland Government to commit to making the Mount Lindesay Highway/Bromelton connection a reality.
"What we are asking for is a commitment to the arterial design by 2024, and then construction in two phases.
"The first phase of construction would concentrate on the Woodhill to Bromelton section, with delivery by 2027, followed by the southern part of the arterial - Bromelton to Josephville - delivered by 2032.
"We are not being unrealistic and asking for it to be delivered next year, we just want the commitment to give some certainty to existing and future businesses in the region."
Mr Kassulke said while there are already some great businesses in the SDA, its potential for growth will bring much needed employment to the region.
"The Bromelton SDA is a sleeping giant that needs to be woken from its slumber," he said.
"Modern road infrastructure and transportation will attract large industry, which will bring employment, purpose, wages and prosperity to this beautiful district.
"We've seen some work on the Mount Lindesay Highway, although much of this is at the Brisbane end of the highway.
"Increasing traffic volumes have easily outstripped the safe traffic capacity, and my major bug bear is that every new residential development brings with it a new set of traffic lights.
"The likely outcome will be the stop start crawl of Ipswich Road 50 years ago."
Cr Christensen said efficient logistics movements are fundamental for a thriving economy.
"Businesses can't afford the stop and start on the Mount Lindesay Highway every day - it costs money and makes them uncompetitive," he said.
"To attract new businesses to the region, we want to hear commitments that the Mount Lindesay Highway upgrades and Bromelton arterial road are on the cards."
The Mount Lindesay Highway/Bromelton connections is one of 10 key issues outlined in the Scenic Rim's 10 Point Plan for which Council is seeking support from political parties and local candidates prior to the October 2020 Queensland State General Election.
The issues prioritised in the advocacy plan are key to the future growth and economic prosperity of the Scenic Rim.
Council's 10 Point Plan is available on Council's website www.scenicrim.qld.gov.au/our-council/administration/advocacy
Image: AJ Bush and Sons Bromelton Rendering Facility in the Bromelton State Development Area.