Information for businesses impacted by COVID-19
Supporting our Scenic Rim business community through this challenging time is a priority, and it's important to us to make sure you are getting the right information.
Stay informed
Download the official government "Coronavirus Australia" app in the Apple App Store or Google Play, there is a section for a businesses and employees.
Emergency business hotlines
Queensland Business Hotline - 1300 654 687
Federal Government Business Hotline - 13 28 46
Australian Taxation Office Emergency Hotline - 1800 806 218
Centrelink Hotline - 13 74 68
Small Business Hotline - 1300 654 687
Free business counselling service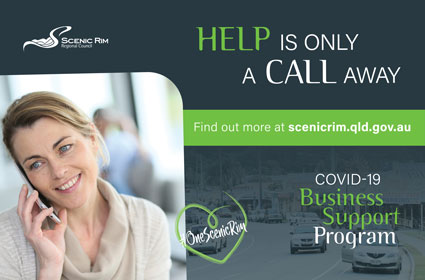 To help support the local business community impacted by COVID-19, Scenic Rim Regional Council is offering free of charge confidential counselling service with experienced independent professionals, Capacity Consulting, 'Lavender House'. Find out more information about eligibility and how to access this service here.
You can download Scenic Rim Regional Council's flyer with information about the business counselling service here.
Support for businesses
Below is a list of resources and key organisations offering tailored support for businesses through the COVID-19 crisis.
Queensland Government
Federal Government
Find financial assistance, eligibility and timing for the new government support for Australian businesses:
Support for businesses - Information on support for sole traders, employers, companies, government assistance for business, state and territory information, grants and assistance. This page is frequently updated as new information is made available.
Continuing your business guide - This interactive step-by-step guide helps you understand what to do to keep your business operating. The guide will help you plan your recovery, know where you can get support and assistance, keep your operations running, reach out to your customers, access your finances and protect your business
COVIDSafe resources - Are you looking for some extra resources to help promote your COVIDSafe environment within the workplace? The Australian Government have prepared a suite of resources that includes both pre-made and editable posters, door signs, stickers, social media tiles and more.
Chamber of Commerce and Industry Queensland (CCIQ)
Chamber of Commerce and Industry Queensland (CCIQ) - Coronavirus knowledge and support provided by CCIQ who are working around the clock to help Queensland businesses protect their operations and their staff. Access free resources, support and information here.
CCIQ is offering a free Business Essentials 12 month membership which will enable you to receive phone and email support during this period of uncertainty.
Tourism sector
Tourism and Events Queensland - Information specific to hotels, tourism operators, event organisers.
Queensland Tourism Industry Council - Information specific to hotels, tourism operators, event organisers.
Tourism Australia has compiled helpful information on their website regarding support and relief assistance for tourism businesses.
Luminair is a Brisbane-based strategic consultancy who have developed an operations-based e-book focused on assisting event organisers with COVID-19 crisis communications guidance and forecast considerations post the pandemic.
Rural Financial Counselling Service - Southern Queensland
Small Business Financial Counselling Service - This service has been expanded to support any small business impacted by COVID-19 and is funded by grants from government to local organisations that employ financial counsellors. Any Small Business impacted by COVID19 can now contact the Small Business Financial Counselling Service in Southern Queensland – phone (07) 4622 5500.
Australian Building Codes Board
As COVID-19 restrictions are relaxed, it is important to ensure the safety of building water systems before occupancy resumes. While some buildings have been unoccupied during the restrictions, water left in water services could change in quality. This Advisory Note provides guidance on what should be considered prior to re-occupying a building.